Disclosure: We may receive commissions when you click our links and make purchases. Read our full affiliate disclosure here.
Read:
---
NAMM (the National Association of Music Merchants) is one, if not, the go-to music event of the year.
Held at the Anaheim Convention in California the trade event has attracted over 100,000 attendees in recent years and with around 2,000 exhibitors there is almost too much to see.
Here are our standout picks that featured at NAMM 2020.
Did we miss something that should be on here? Let us know in the comments down below!
---
Akai MPC One
NAMM saw the debut of the Akai MPC One, the latest addition to the MPC series.
The new unit combines features from both older and newer models and comes with a 7-inch multi-touch display, 16 velocity-sensitive pads, 2GB RAM, 8GB storage and eight outputs.
The MPC One operates as a standalone unit, eliminating the need for a DAW and ships with 2GB of drum samples and loops.
The MPC Synth engine allows you to customise and create your own sounds and includes USB Flash and SD Card ports for storing your sounds.
Retailing at approximately $840, more information can be found at https://www.akaipro.com/mpc-one
Solid State Logic SSL2 & SSL2+
We're excited to see two new audio interfaces from SSL in the form of the SSL2 and 2+.
Long synonymous with quality consoles and channel strips, the announcement from SSL certainly turned a lot of heads in what looks like one of the more significant product announcements at NAMM.
The two promise to be the best sounding USB audio interfaces at this price point. 
With 'class-leading mic preamps' and Legacy 4K enhancement mode (inspired by the SSL 4000 series' analogue colouration) both ship with SSL's Production Pack Software Bundle.
Specs for both look great, with the SSL2+ coming with additional headphone output (with independent monitor mix), midi I/O and unbalanced outputs for DJs.
The SSL2 retails for approximately $180 with the SSL2+ coming in at only slightly more for $240.
For full specs head to https://www.solidstatelogic.com/interfaces
Sequential Pro3
Sequential revealed a new development in the form of the Pro3, a hybrid mono/paraphonic synth.
Following the Pro One and Pro 2 models, the 3rd in the series features 3 oscillators made up of 2 VCOs with waveshaping and a third digital wavetable oscillator.
Included are three LFOs and and 4 ADSR+delay envelopes and the in built digital effects will allow you to build reverbs, delays and more whilst the analogue distortion sound brings a more aggressive side to the unit.
The unit is currently priced at $1,399, head to https://www.sequential.com/buy/ to find your local dealer.
Ranger FX Minibar
If you're a guitarist who plays live then you'll know the fear of someone knocking a beer onto your pedalboard causing your circuits to fry.
Well Ranger FX have brought out their very own effects pedal which, in contrast, won't work until you pour liquid INTO the pedal itself.
Inside the pedal is an analyser which will shape the sound of your distortion based on what you pour in based on how well your signal conducts, with the opacity of the liquid controlling the treble and bass.
We're definitely keen to give this one a go, until then check out the Minibar in action on the YouTube link below. The Minibar retails at around $129.
Available at: https://www.raingerfx.com/product/minibar-liquid-analyser/ 
BluGuitar Amp X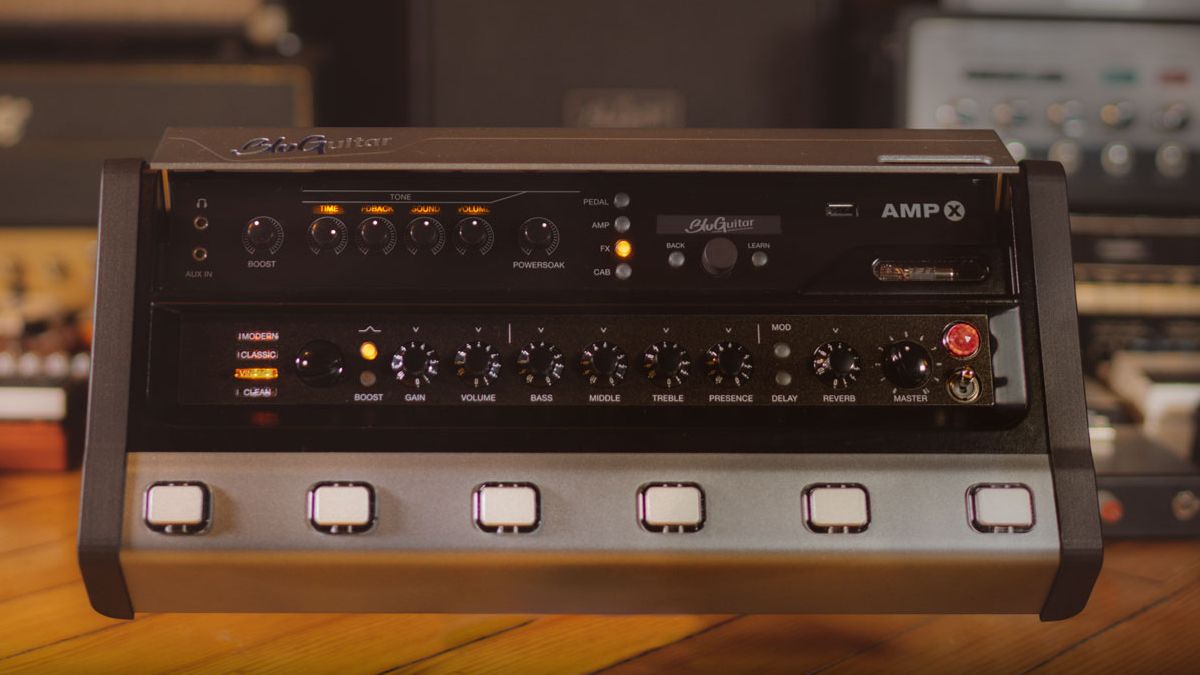 Another exciting product for the guitarists out there is the BlueGuitar Amp X – amps, cabinets and effects all housed in a neat analogue box.
Included with the X is a 100-watt nanotube power tube, onboard effects such as compressor, tremolo, fuzz and boost and a series of stereo digital effects such as phaser, delay and reverb.
The Amp X is the result of over four decades of work by Thomas Blug. He explains that the pedal itself includes a 'virtual soldering iron' of sorts, allowing you to edit and save your own analog parameters.
Also at your disposal is an online library of presets. If making your own tweaks isn't enough then just head online and you'll be able to replicate almost any guitar tone from crunchy, twangy overdrive to crushing metal distortion.
You'll need to contact your local supplier for prices. Head to https://www.bluguitar.com/country_shop/ for more information.
Apogee Symphony Desktop
https://www.youtube.com/watch?v=gz56A6JiEyk
At first glance, the Symphony Desktop interface doesn't look all that dissimilar from the Universal Apollo range, and that may be intentional.
Housed in a sleek silver design, the Symphony offers 10 ins/14outs while Apogee tells us that the hybrid Alloy Mic Preamp emulation promises "the richest, most authentic audio modeling available in an audio interface".
The unit also offers Print and Dual Path link modes with Dual Path allowing you to tweak effects later down the line. 
The Symphony is retailing at approximately $1,299. For more information and specs head to Apogee's website at https://apogeedigital.com/products/symphony-desktop 
NeuralDSP Quad Cortex
The Quad Cortex by Neural DSP amp modeller/multi-effects unit marks the first independently produced piece of hardware from the legendary plug-in manufacturer.
Proclaimed as the most 'powerful floor modeller on the planet', the Quad Cortex comes with 2GHz of dedicated DSP enabling almost endless possibilities of tone with over 50 amps and 70 effects inbuilt.
Doug Castro, CEO of Neural DSP explained: "for the past 2 years, the Neural team has been defying what we believed to be possible with not only audio algorithm development, but with mechanical, industrial and user experience design as well".
The unit is currently available for pre-order with a deposit of $200, followed by $1,399 when the unit ships.
For more information head to https://neuraldsp.com/quad-cortex#pre-order
ASM Hydrasynth
Another exciting development at NAMM was the ASM Hydrasynth.
Available as a 49 note keyboard or desktop version with pads the Hydrasynth comes with ASM's 'Polytouch', the company's signature polyphonic aftertouch technology which uses touch sensitivity to bring 'life and dynamics' to your sound.
The synth offers up to 8 voices with 3 oscillators each, whilst each oscillator can be loaded with up to 219 waveforms.
Two filters are also included, configurable to either series or parallel and you'll also have access to 5 loopable envelopes and LFOs.
For more information and full details of features head to http://www.ashunsoundmachines.com/hydrasynth-key for the keyboard or http://www.ashunsoundmachines.com/hydrasynth-desk for the desktop version. Prices are available by locating a dealer via the Ashun Sound Machines website.
Roland V-Drums Acoustic Design Series
Roland announced a new product line in their V-Drums Acoustic Design Series which blend the convenience of electronic drums with the look and feel of an acoustic kit.
It's definitely tricky finding a balance between realism and flexibility when it comes to electric drum kits but Roland VAD506 and VAD503 kits offer fully wrapped drum shells, traditional mounting hardware and mesh heads. The VAD306 is similar although offers shallower heads to allow a condensed setup, perfect for those with limited space.
Aside from the drum heads the new CY-14C-T and CY-16R-T cymbal pads have a reduced thickness by 40% which offers a much more realistic swing when struck whilst Roland's advanced sensor technology helps eliminate hotspots on the kick and toms.
For more information head to www.roland.com
Abasi Guitars
Tosin Abasi (Animals as Leaders) was one to watch at NAMM with his series of eye-catching axes.
Abasi is renowned for his technical skill and although the unusual shape of his guitars may be off-putting for some, the new range is designed to be as comfortable as possible for the modern player with an ergonomic design.
One of the newer concepts was a 7 string guitar made in Japan which incorporates a tapering neck, thinner at the bottom than at the top, which aims to satisfy those who prefer a thin, flat neck but "would benefit from the thumb positioning of a thicker neck."
For more information, specs and prices head to https://abasiconcepts.com
Tom Morello Soul Power Stratocaster
There is a lot on offer for guitarists at NAMM but we think this is one of our favourites. 
There have been a few rumours that Tom Morello (Audioslave, Rage Against The Machine) had been collaborating with Fender on something, so its great to see the rumours confirmed with this new Fender Artist Series guitar.
Morello is famous for his clean-yet-powerful signature guitar tone and his love of 'DJ' style scratching and squealing so its unsurprising to see the model come with a kill switch as standard.
Also included is a double-locking Floyd Rose trem, locking tuners and 22 medium-jumbo frets. In terms of pickups the guitar comes with Seymour Duncan Hotrails in the bridge and two Fender noiseless single coils in the neck and middle position.
If you're after the look as well as the sound, Morello's 'Soul Power' decal comes with the guitar (separately, obviously).
The Soul Power Strat retails at around $1,399 over at Fender:
https://shop.fender.com/en-GB/electric-guitars/stratocaster/tom-morello-stratocaster/0140350706.html 
Sontronics Podcast Pro Dynamic Mic
The Podcast Pro Dynamic Mic from Sontronics is a dynamic mic, designed with those producing podcasts or spoken word recordings.
The cool red design would look at home on any streaming channel and having been aimed specifically at those who are podcasting is intended to need little or no EQ'ing at all.
The super cardioid polar pattern also allows effective off axis rejection and internal baffling, three acoustic protective layers and internal pop filter mean you can pretty much take the mic out the box and get going.
Available early february the microphone will retail at approximately $120. Head to Sontronics website for more info: http://www.sontronics.com
Positive Grid Spark
We're definitely seeing a lot of new and innovative products on the market recently, designed to inspire and improve technique. Positive Grid's Spark is an interesting concept for bassists and guitarists.
The amp will analyse your style of playing to create backing tracks and can even display chords from Spotify and Apple Music songs.
The Spark will even slow down a song's tempo, loop song sections and respond to voice commands.
The amp itself is a 40-watt combo (utilising Positive Grid's BIAS to emulate a realistic tube tone), with EQ, tap tempo delay and reverb effects built-in. For added inspiration, you'll have access to over 10,000 downloadable tones via the Spark's app.
The Spark is available for pre-order with several different purchase offers in a Kickstarter style campaign over at https://www.positivegrid.com
Line 6 POD Go
The new addition to the Line 6 POD range is the POD Go,  lightweight and portable multi-effects with assignable patches based on the Line 6 Helix model.
The user friendly model includes 8 footswitches, all colour coded, and expression pedal. 
In terms of outputs the model comes with headphone out, as well as amp and stereo outputs, FX Loop and runs as a 24 bit/96KhZ audio interface. 
The Go will set you back around $840 dollars. For more information head to www.line6.com
Barefoot Output Monitor Collaboration
An exciting collaboration between Output and Barefoot Sound was announced with the addition of their new, as yet unnamed monitors.
The monitors look great, with hand-built wooden bases and although we can't comment on the sound yet one monitor will set you back $699, so we're expecting good things from the collaboration.
For more information and to join the waiting list for the new units head to https://output.com/speakers 
Behringer RD-6
Behringer have been extremely consistent in recent months with their new product launches, many of which have been clones of classic or sought after models so it's no surprise to learn the RD-6 clone of the Roland TR-606 drum machine.
Designed to accompany the TD-3 (Behringer's emulation of the Roland TB-303 Bassline Synthesiser) the RD-6 comes with all seven analogue 606 sounds and 64 step sequencer.
There are scarce details surrounding the RD-6 currently, including price, but we would imagine the unit will carry a less-than-$200 retail price.
For more information head to www.behringer.com