Disclosure: We may receive commissions when you click our links and make purchases. Read our full affiliate disclosure here.
Unsure of where to start with music production?
We uncover the 10 most essential components of getting started.
---

Wondering How To Produce Music? It All Starts In The Studio
There are a lot of moving parts in music production, so knowing the best way to get started can prove difficult and overwhelming.
With thousands of different options when it comes to synths, software, monitors, microphones and gear it is easy to get lost.
Whether you want to produce beats or get into audio engineering, this article will give you a definitive guide on how, as a beginner, you can sink your teeth into production and start building your own home studio without breaking the bank.
Not All Equipment is Made Equal
Over recent years music production has seen a massive shift. Gone are the days where the only option, if you wanted to record, was to go to a professional studio and hire an engineer for the day. Today, music production is much more accessible, hence the rise in home studios.
Production is an expressive art form, and while one piece of software or equipment may be perfect for you, that doesn't mean that the next producer will enjoy it.
There is no black and white option for a good home studio set up, so try to spend within your means and do your research before parting ways with your cash.
If you've no idea where to start, consider reading Producer Hive's guides below:
The great thing nowadays is that steep competition has driven prices lower meaning you can get some great gear without spending a fortune.
Now, let's take you through the 10 core essentials every producer needs to set up their very own home studio.
10 Essentials To Start Producing Music Today
1. Computer or Laptop
The first thing you will need is something to record onto, i.e. a computer or laptop. It's common to see producers using Apple products but you can use either Mac or PC to run your software. It is worth noting that DAW's (Digital Audio Workstations) such as Logic are exclusive to Mac, but we'll get to that later.
Whatever software you use, it is likely to be quite heavy in terms of CPU so definitely think of this as an investment, particularly if you need to upgrade or purchase a new machine to run your software.
We wrote a comprehensive guide on ideal laptop specs to look for when selecting a music production laptop. It includes everything you need to know before throwing your hard-earned money at a laptop.
A computer will likely be the most expensive purchase when starting out, but don't worry if a brand-new model is outside of your budget, you can still buy second hand or refurbished models at a reduced price.
You may even find that your current model is enough to run your software, so don't feel it is necessary in this case to dive in and buy a top end model!
For more intensive programs such as Pro Tools, you will ideally want 32gb of RAM minimum (although it can run on 16), for others such as Ableton you are looking at 8gb or more RAM.
If you're stumped on good laptop options, check out the following guides we've written (they open in new tabs):
3 Music Production Laptops Under $1000 That Are Insanely Good Value
5 God Tier Laptops For Music Producers In 2019
2. Audio Interface
So you've got your computer sorted. You now need a way of getting your recordings onto it.
An audio interface essentially acts as a medium between your computer and instrument or microphone. Plug your lead in and the interface will translate what you play or sing into a digital signal and send it to your software. Your interface will also feed audio to your monitors.
There will be several controls on each such as a gain dial (which controls the level of the signal you are recording), a line/microphone switch (a microphone produces a much weaker signal than a line) and a pad (which reduces your signal by a certain amount of dB if it's too loud). You should also have a monitor control to increase or reduce your speaker level.
A great tip here is to look for bundles (like the Focusrite Scarlett 2i2) – some will include software, plug-ins or a microphone.
Again, don't worry too much about spending a fortune here but do keep on the lookout for what offers are available and you'll get much more for your money.
Sale
Mackie Audio Interface, Onyx Artist 1X2 USB Audio Interface (Onyx Artist 1-2)
Focusrite Scarlett 2i2 (2nd Gen) USB Audio Interface with Pro Tools First, Red, 2i2 - 2 Mic Pres
Two natural-sounding Scarlett mic preamps with plenty of even gain; two instrument inputs, 1/4-inch balanced jack...
Class-leading conversion and sample rates up to 192kHz / 24 bit; super-low roundtrip latency for using your plug-ins in...
LIMITED TIME OFFER: FREE Venomode DeeQ, Maximal 2, and Pivot, plug-ins upon registration and download.
Includes Pro Tools | First Focusrite Creative Pack and Ableton Live Lite, Softube Time and Tone Bundle, Focusrite's...
Compatible with Windows 7 and higher, and Mac OS X 10.10 and higher. Frequency response - 20 Hz - 20 kHz ± 0.1dB....
Audient iD4 USB 2-in/2-out High Performance Audio Interface
If you're new to music production, you might not have heard of Audient before, and that's because they're not as old as some of their counterparts. Their brand name has quickly become synonymous with having the best quality preamps that your money can buy, under $200. It's a simple 2 in, 2 out interface that has a mic preamp (with phantom power so you can use a condenser), and an instrument input too for your guitar, or bass.
You also get a main output for your speakers and a dual headphone output. It's USB powered, and thanks to Apple's camera connection kit, it also works with an iPhone/iPad. If you can afford to spend a little more, you won't be disappointed with the Audient ID4.
3. Music Production Software
A DAW (or 'Digital Audio Workstation') is a fancy way of saying recording software. Before purchasing a DAW it is worth having a think about the type of music you want to produce and record.
Your DAW choice will depend on a few factors:
Your style of music
Your style of workflow
Your budget
Each one will take a while to master and while some have translatable functions, you may find certain aspects of each better for your workflow. There is no 'best' DAW per-se, however, there are 3 we suggest using in 2019.
We have also included what we think is the best free DAW available by today's standards.
If you're on a super tight budget, check out our favourite free DAWs here.
Pro Tools
Pros
Industry-standard, available across most recording studios worldwide
Multitrack audio editing
Support for surround sound editing
Excellent customer support team
Cons
Not as user-friendly
Sequencing and MIDI usage is cumbersome
Expensive
Arguably the industry standard, Pro Tools is the 'household name' DAW. Pro Tools is great if you are looking to record bands or live instruments, though many complain about its unintuitiveness in regards to handling large midi sessions, and limited video codec support.
As it's still heralded as the 'industry standard', learning the software could be crucial to learn if you are looking to obtain paid work in recording studios.
While it does have a steep learning curve, Pro Tools is a fantastic and intuitive piece of software. It is one of the priciest DAWs out there but there are cheaper subscription options and even free versions if you want to try to get to grips with it before buying.
Pro Tools First is available for free but is restricted to 16 tracks of recorded audio. There are also subscription offers and a full paid license option.
Pro Tools is available at: Amazon
Logic Pro X
Pros
Comes with a big selection of plug ins as standard (it also includes flex pitch modes which allow you to tune your vocals without the need for 3rd party software).
Cost-effective.
Great for 'comping' (recording multiple takes and quickly editing together the best parts).
Apple Loops included.
Easily import GarageBand files.
Cons
Only available on Mac.
Difficult to speak to customer support.
Layout, mix and edit windows can be fiddly.
Logic is a great, cost-effective choice if you are just starting out. It operates in a similar way to Pro Tools, however, Logic offers more in terms of synthesizers and midi plugins. This is a great option if you are looking to produce electronic based music and have the flexibility of recording instruments.
There is also a Quick Help function in Logic which, when turned on, provides an explanation for each function of the DAW onscreen when you hover over it. You will also find Logic is a little easier on the wallet than Pro Tools, however, it is currently only available on Mac.
Logic Pro X is available at: Amazon
Ableton Live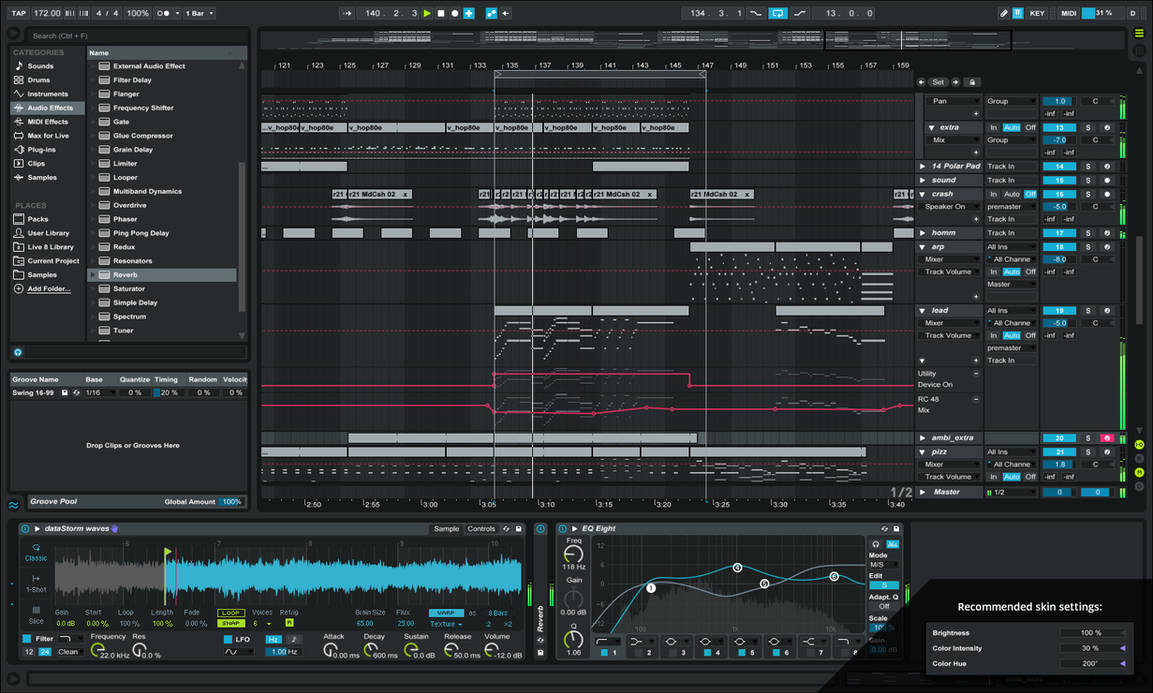 Pros
Intuitive 'drag and drop' functionality.
Native/stock plugins and software instruments are of a very high standard.
Fluid MIDI integration, audio racks and chains are a breeze to set up.
'Live' performance features.
Warping feature is great for sampling, accappellas, etc
Cons
Layout, routing and design can be confusing for some.
Not cheap
No efficient way of recording multiple takes (for band recording)
Ableton Live is a fantastic all-round piece of software for modern electronic producers and performers alike.
Ableton comes with a huge number of plug-ins and software instruments. It can take a while to get used to, however, you'll find this a really rewarding program to learn and write in. Not only is it great for constructing and mixing songs, but it can also be used to play live meaning you can write and mix your tracks at home, close your laptop, head off to your gig and you're ready to play.
Ableton is also available in several packages suiting any budget, ranging from 'Intro' up to 'Suite'. Ableton Live 10 is available as a 30-day free trial.
Ableton Live 10 Intro is available at: Amazon
Ableton Live 10 Suite is available at: Amazon
Cakewalk
Pros
Completely free.
Software is frequently updated for free.
Includes drum replacement tool.
Sleek design and intuitive workflow.
Cons
Only Windows-compatible.
Can be quite buggy.
Although a great starting point, not an industry standard DAW.
Cakewalk by Bandlab is a completely free DAW and a great introduction to production software.
Much like Logic, Cakewalk comes with a set of standard plugins and software instruments which will give you a good insight into how recording software works (without having to commit financially).
Cakewalk even offers online collaboration tools, which can really benefit you as a beginner. By working with others you'll not only be able to get a fresh set of ears to listen to your mixes but also pick up tips from others along the way.
Cakewalk is currently available free of charge at BandLab.
4. MIDI Keyboard/Controller
A MIDI keyboard or controller is an external piece of hardware that interacts with your DAW. MIDI is a type of signal which instructs a software instrument what note to play and how long for.
For example, you could open a piano plugin, hit record and use your MIDI keyboard as a piano. This translates to most instruments imaginable — MIDI allows you to virtually program everything from drums to entire orchestras.
If you're into electronic music and/or film scoring, chances are you will get a lot of usage out of a MIDI controller as it will help you get ideas out of your head and into the computer, via your fingers.
Another option is to go for a MIDI controller that will let you tweak your plug-in parameters as you play, not only saving time but also making the process a whole lot more fun than if you were to manually automate the settings in your DAW.
It is worth bearing in mind that even if you are intending to just record live bands, a midi keyboard or controller is still a good investment for the mixing process. You'll often find that adding some subtle synth to your tracks can really help fill out the sound.
3 affordable but solid MIDI controller options we recommend are:
Sale
Akai Professional MPK Mini MKII – 25 Key USB MIDI Keyboard Controller With 8 Drum Pads, 8...
Compact keyboard controller easily fits backpack and studio production desk (12.4" long, 1.6 lbs)
Powered by USB connection to computer, with free virtual-instrument download packages
Crammed full of all the features you need to play and edit musical ideas
25-synth-action mini-keys, 8 velocity-sensitive rubber drum pads with two banks, and eight assignable control knobs
Dedicated buttons for Note Repeat, Full Level, and Octave Up and Down
AKAI Professional MPD218 - USB MIDI Controller with 16 MPC Drum Pads, 6 Assignable Knobs, Note...
Beat Production, Anywhere - Ultra-portable, feature-packed and USB powered pad controller with 16 thick fat MPC pads for...
Expandable Banks - Easily accessible dedicated controls for three pad banks provides a total of 48 assignable pads
Assignable Control - 18 fully assignable 360-Degree potentiometers accessible via three banks for controlling DAW,...
Feature Packed - MPC note repeat and full level controls for immersive expressive performances
Comprehensive Software Suite Included - Ableton Live Lite, Drum Synth 500 by AIR Music Tech
Native Instruments Komplete Kontrol M32 Controller Keyboard
32 compact keys to control all your instruments and effects
Sleek and solid design, fused with professional production features
Comes with a powerful software package, including synths, basses, drums, effects – plus Ableton Live 10 Lite
OLED display and touch-sensitive knobs to tweak your sound's essential parameters in real-time
Usb 2.0 bus powered
5. Microphone
An obvious one, but yes you will need a microphone if you intend to capture vocals or record instruments in their natural environments. You can get away with recording instruments directly into your soundcard, though there can be drawbacks to this (being able to capture the sound of air moving out of a speaker sounds a lot more satisfying than just recording direct current — at least in my opinion).
There are two main types of microphones to consider when building your first home studio: condensers and dynamic microphones.
Condenser Microphones
A condenser microphone is a sensitive microphone type that requires a small amount of power in order to work. This would be sourced from your interface and is known as 'Phantom Power'.
Condenser microphones are typically crisp and suited to vocals and certain instruments. If you want to record your acoustic singer/songwriter demos at home then a condenser is a good choice, you'll find that the way it reproduces the sound is accurate and clear however bear in mind you will need a pop shield for recording vocals to avoid any nasty unwanted breath sounds and popping noises.
3 affordable but solid condenser microphone options we recommend are:
Dynamic Microphones
A dynamic microphone operates in a similar way to a condenser although they do not require phantom power. As a rule, a dynamic mic will be able to handle a much higher SPL (sound pressure level) which makes them more suited to instruments like drums which produce fast and very loud sounds.
You'll usually find a dynamic microphone can't replicate the finer intricacies of an instrument in the same way as a condenser but that doesn't mean that they are inferior in any way. It's all about context.
A Shure SM57, for example, is a dynamic mic that works great for recording guitars and has been used for years on countless records.
If your budget can stretch, it's worth investing in both a condenser and a dynamic mic, as they both have their individual uses.
While there are 'rules' about what mic should be used for what, it's all about finding which works for you.
There are producers who would swear by a Shure SM58 (a dynamic mic) for vocals in the studio, and there are producers who would use a condenser for guitar recording. Try experimenting and see what works for you!
3 affordable but solid dynamic microphone options we recommend are:
6. Studio Monitors
Monitors will vary between manufacturers, but they are an essential part of any self-respecting studio.
Studio monitors are designed with producers in mind, and the reason why they are wildly popular in studios is that they offer flatter frequency responses, which give you the most accurate representation of what you are mixing or recording.
Your typical hi-fi speakers, for example, will probably have a boosted low and top end, which might sound great in your living room and for parties, but for mixing purposes, you want to hear your mixdowns as objectively as possible.
Monitors range all the way from the cheap to the 'I need to re-mortgage my house' expensive. The good news for beginners is that you don't have to break the bank to get a decent pair.
Click here for a list of studio monitors under $300 perfect for beginners.
Regarding speaker sizes, for your first home studio, it is perfectly fine to start off with 5″ cones. Sure, you won't get massive bass/low-end response from them, but learning on smaller monitors can be beneficial for those starting out. There is a saying, that if you can make a mix sound huge on small speakers, it'll sound even bigger on large speakers…
3 affordable but solid studio monitor sets we recommend are:
Yamaha HS Series HS5 2-Way 70W Bass Reflex Bi Amplified Nearfield Powered Studio Monitor Pair Bundle...
JBL 305P MkII active studio monitors are a great nearfield solution for any serious audio engineer or music producer....
BL designed the 305P MkII with advanced features acquired from their 7 Series and M2 Master Reference Monitor, making...
When you can clearly hear everything in your mix, you make accurate sonic judgments — which leads to better-sounding...
Wide sweet spot equals a better studio experience - we know you don't spend every second of your studio time in the...
Checking your mix at low volume levels is a great way to confirm your overall balances, but many monitors will suffer in...
JBL Professional Studio Monitor, Black, 5-inch Speaker (305PMKII)
MkII series features next-generation JBL transducers, new Boundary EQ, and a sleek new design
Updated HF and LF transducers: new design improvements result in optimized damping for superior transient response and...
New boundary EQ: restores neutral low frequency response when speakers are placed on the work surface and adjacent to...
Sleek, modern design provides a dramatic flair to any studio
Broad sweet spot: neutral frequency response across a wide area allows you to fine-tune your mix even while listening...
Sale
PreSonus Eris E4.5-2-Way 4.5" Near Field Studio Monitor (Pair)
A great choice for music lovers, content creators and gamers, the Eris E4.5 media reference monitors bring studio sound...
Now comes included with Studio One Prime and Studio Magic plug-in suite, over $1000 USD worth of music production...
4.5-inch, woven-composite, low-frequency transducer produces an accurate, balanced sound.
1-inch (25 mm), ultra-low-mass, silk-dome, high-frequency transducer eliminates harshness
High- and low-frequency controls let you fine-tune the speaker's response for the space you're in.
7. Headphones
While it's best to mix on monitors to get the most accurate representation of the song you're working on, there are situations where headphones are necessary.
Perhaps you work late and your only chance to produce is late at night, and you prefer not to drive your neighbors insane.
They're also particularly useful to have as a second 'reference' for when checking the balance of your mixdowns.
You can go for either open or closed-back headphones. Click here for a list of headphones under $200 that we recommend.
As a general rule, open-back headphones are more suited to mixing as they let some sound escape, which will sound more natural and clear. Though, if you mix 'on the go', i.e. on planes and trains, that bleed will be audible by all the passengers around you, so keep that in mind.
Personal preference and comfort also come into play, so it's a wise idea to go into a store and test a bunch of pairs out before you commit to buying.
One more thing to take note: lower 'ohm' ratings generally mean you will be able to drive louder volumes out of it (you'll want lower ohm rating headphones if you are planning to use them via your mobile device).
3 affordable but solid studio headphones we recommend are:
beyerdynamic DT 770 PRO 80 Ohm Over-Ear Studio Headphones in Gray. Enclosed design, wired for...
Closed over-ear headphones, ideal for professional recording and monitoring
Perfect for studio and stage recordings thanks to their pure, high-resolution sound
The soft, circumaural and replaceable velour ear pads ensure high wearing comfort
Hard-wearing, durable and robust workmanship Made in Germany. Innovative bass reflex system
Practical single-sided cable (3.0m cable) . Comfortable fit due to rugged, adjustable, soft padded headband construction
Sale
Audio-Technica ATH-M50X Professional Studio Monitor Headphones, Black, Professional Grade,...
Critically acclaimed sonic performance praised by top audio engineers and pro audio reviewers
Proprietary 45 millimeter large aperture drivers with rare earth magnets and copper clad aluminum wire voice coils
Exceptional clarity throughout an extended frequency range with deep accurate bass response
Circumaural design contours around the ears for excellent sound isolation in loud environments
90 degree swiveling earcups for easy one ear monitoring and professional grade earpad and headband material delivers...
Sennheiser HD280PRO Headphones (old model)
Dynamic, closed ear headphones with up to 32 dB attenuation of outside sound
Lightweight and comfortable, ergonomic design, Cord Length 3.3 9.8 feet Coiled
Extended frequency response and warm, natural sound reproduction
Around the ear design with padded earcups
Earpads, headband padding, and audio cord are easily replaceable, ensuring long life
8. Cables
Probably the least exciting aspect of your home studio, however purchasing high-quality cables is essential. You're going to need an XLR cable for your microphones and a quarter-inch jack cable for any instruments such as guitar or bass.
The cables used for your monitors may vary by type (check the manual for more information on this) however where possible purchasing balanced cables means you are less likely to suffer from any unwanted hum or buzz.
9. Microphone Stand
Another somewhat unexciting purchase, however, it is still important to invest in good and sturdy microphone stands. This will stop your mic falling over mid take but also eliminate any unwanted noises or bumps that may happen from holding the mic. It's also much easier to mic up an instrument with a stand!
We took on the incredibly exciting (not really) task of demoing 9 popular boom arms — you can check out our findings here. There's something in here for all price points!
I find that boom mic stands are the most convenient for small home studios with not a lot of space. They usually come in two parts, bending at a hinge in the middle which makes it easier to position next to your singer or instrument. If you're going to be recording a guitar you can also purchase shorter stands perfect for positioning in front of your amp.
10. Patience
Be forewarned that nothing comes easy. Music production is no exception, and just like any new pursuit, one that might come with its fair share of banging your head against a wall.
But you'll learn to love the progress. With every track you start, and complete, you'll feel your skills and confidence grow.
If you want to fast-track your success, you can always look to picking up a music production course. There are plenty of affordable ones online, for all genres. Click here for a list of some of our favorite courses.
---
Frequently Asked Questions
But What About Soundproofing? Should I Buy Some Foam?
If you're just starting out then soundproofing or acoustic treatment isn't essential. After all, it doesn't stop you physically making music if your studio isn't acoustically treated!
As you get more into production it's something you may want to invest in. From a mixing and mastering point of view, a properly treated room will absolutely help but for the purposes of just trying your hand at production, it isn't a necessity.
Also, bear in mind that good acoustic treatment isn't cheap and cheap acoustic treatment isn't good. And no, eggshells will do nothing more than turn your studio into an ugly mess.
If your room's acoustics are truly dreadful, it may be worth investing money into a good pair of headphones, as opposed to spending thousands on soundproofing to fix a bad room (particularly if you are just starting out).
See how you get on, and if production is something you decide you want to really get involved in then it's time to think about acoustic treatment.
If you'd like to read more this topic, check out our mini-guide on soundproofing here.
Do I Need To Buy External Plug-Ins?
Short answer: no. Most DAWs will come with a good set of plugins and you'll often find your interface will as well. Much like G.A.S., buying plug ins can easily become a bottomless pit for your money, so get good at using what you have before purchasing more.
Your basic plug-ins such as EQ, compression, reverb and delay are enough to get started, and chances are your DAW has more than these anyway. Get used to how they work and gain an understanding of why you would use them and where.
Most plug-ins offer a demo version, try downloading a trial before committing as you may find what you have now works just fine.
There are plug ins that can help those with limited space, such as EZDrummer or Superior Drummer which allow you to create realistic drums all within the box.
There are also hundreds of high quality and free plug-ins available online from places such as KVR Audio.
A lot of plug-in retailers such as Plugin Boutique regularly have sales with big discounts on their range.
Keep an eye out and if there is something you really want you may find it discounted soon!
What About Sample Packs?
Much the same as plug-ins, sample packs aren't a necessity if you are just starting out. No doubt sample packs can help as a starting point for inspiration for a track but don't get sucked into the marketing hype.
Check out our extensive list of free sample pack companies here. You can thank us later.
Try using freesound.org or the BBC Sound Effects Library first, you'll be surprised by how many samples there are on these two sites alone to sift through.
If you are feeling like splurging out on some professional packs, Loopmasters are our go-to, and often host great deals and discounts.
---
There you have it — 10 essential pieces of gear that every home recording studio would need to comfortably make music! The guides below will also help you narrow down your shopping list.
Last update on 2022-08-09 / Affiliate links / Images from Amazon Product Advertising API