Disclosure: We may receive commissions when you click our links and make purchases. Read our full affiliate disclosure here.
We compare EZDrummer 2 vs Superior Drummer 3.
Find out which one is right for you.
Find out why more expensive doesn't necessarily mean better.
---
EZDrummer VS Superior Drummer: Which Is Right For You?
If you're reading this, chances are that you're in the market for a fantastic drum rompler that'll take your songwriting to the next level.
Toontrack have done a fantastic job at developing both EZDrummer and Superior Drummer 3 (following on from, you guessed it, Superior Drummer 2), both have great drums sounds, but you might be wondering whether Superior Drummer is worth the extra cash.
Like most things, the answer isn't so clear cut, and just because Superior Drummer is more expensive, doesn't mean it's the right fit for you.
In this case, neither are a clear winner. They both have their pros and cons but deciding which is the best depends entirely on your own needs.
Allow me to explain.
EZDrummer 2 and Superior Drummer 3 isn't just some clever marketing ploy to rebrand the same drum rompler and make double profits. They are entirely separate tools and depending on your circumstances, one will fit you better than the other depending on what you want from your drum tracks.
I've compiled a handy guide below which should help you make the right purchasing decision.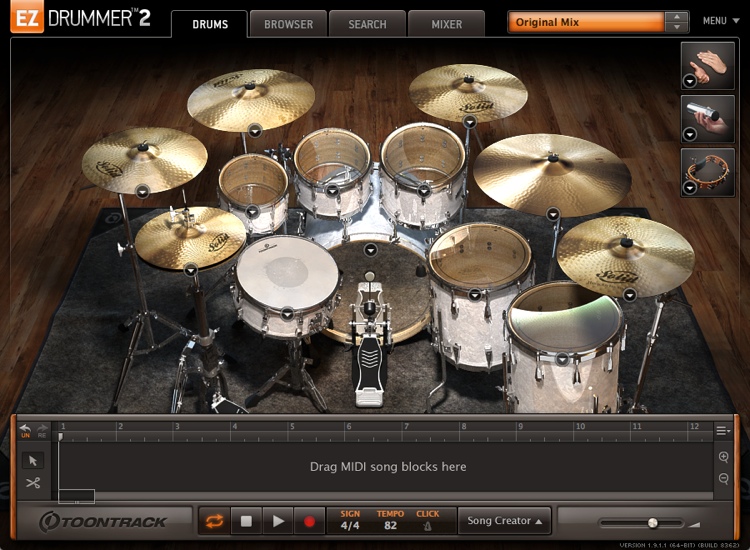 Opinion: EZDrummer Is
Better For Songwriters
Hold your horses. Before you Superior Drummer fanboys start flaming me, let me explain my case.
I only use drum romplers for demos and idea generation. Once I have laid down the foundations of a track, I send it over to a real drummer to do their thing, which more often than not, ends up being wildly different from what I programmed in in the first place!
As a result, many of the features that come with Superior Drummer 3 end up being overkill for me.
Building Song Structures Hasn't Been Easier
EZDrummer has been my drum rompler of choice for the past several years, for a singular reason: it's downright the easiest plugin to get a songwriting vibe going.
EZDrummer exists for those of us who only require a drum VST to get ideas flowing.
In under half an hour, I can effortlessly build up a basic song structure to accompany the guitar lines I punch in, thanks to the handy 'Creator Bar'. Cut/copy/paste however I wish, and Bob's your uncle. I can either press record to capture the drums into audio or drag and drop entire loops onto a MIDI track. It's really that simple.
Limited Choices Unlocks My Creativity
While a lot of producers creating drum tracks want to get all into the nitty-gritty of mic placement, adjusting axis' and room sounds, honestly all this stuff detracts from me actually making music.
Again, all I need out of a drum rompler is for me to layout grooves and drum parts so that I can get ideas out of my head — fast.
I intentionally like to keep it simple here because analysis paralysis resulting in tweaking toms for 4 hours.
EZDrummer's Libraries Sound Good Right Out Of The Gate
If the drum libraries (stock ones and addons) weren't good right out of the gate, my decision on this might have been swayed towards Superior Drummer.
But because they are mix-ready (and they sound incredible for every genre), this allows me to focus on writing music immediately, instead of worrying too much about mixdowns.
So Why Would Anyone Consider Superior Drummer 3?
Your circumstances might differ from mine, and so to balance out this article, here are a few arguments whereby spending the extra money on Superior Drummer would benefit you.
1. You Want TOTAL Control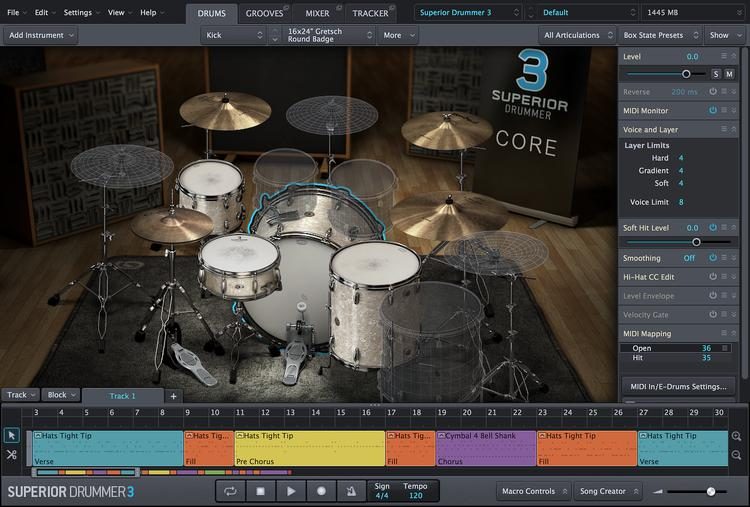 Superior Drummer offers you 100% control over sound design and manipulation. Jump into Superior Drummer 3 for the first time, and you'll be overwhelmed by the number of room settings, drum skins, microphone positions, etc you have on offer to tweak.
If you are planning on releasing music with programmed drums, I would 100% recommend Superior Drummer.
Whereas EZDrummer offers you record-ready drum sounds right out of the gate, Superior Drummer offers you raw, unprocessed samples so you can shape and process them however you wish.
You even have access to manipulate how much 'microphone bleed' you want — the attention to detail is unparalleled.
2. The Enhanced Grid Editor
It does suck being confined to your DAW's piano roll in EZDrummer. Instruments won't be labeled, and I do sometimes spend an inordinate amount of time trying to locate which crash cymbal is which on my piano roll.
Getting granular with velocity changes is also a pain, and a very unintuitive process.
The Grid Editor in Superior Drummer solves all of these problems and makes drum editing a breeze. It's all done within the plugin itself, in a streamlined interface and also lets you store multiple versions or variations of your MIDI grooves, so you can audition different parts to you or your clients with a few simple clicks.
3. You Want More Drum Libraries
An obvious argument for wanting Superior Drummer 3 over EZDrummer 2 is that the breadth of sound libraries in SD3 is staggering. While EZDrummer 2 gives you a core library of around 3GB, Superior Drummer 3 offers 230GB of drum sounds and libraries.
The larger package doesn't just mean more libraries. A large reason why the file size is massive is that they really went the extra mile to record as many different articulations and velocities of drum hits as humanly possible.
Final Thoughts
To conclude, do you really need to spend the extra on Superior Drummer? Is it worth you upgrading/crossgrading to Superior Drummer 3? Maybe, but maybe not.
If you're completely happy with how your workflow operates on EZDrummer, then stick with it. If you're after a new level of control over your drum sound and programming — then by all means, definitely pick up Superior Drummer 3.
A neat thing about the crossgrade feature is that all the kits from EZDrummer 2 can be ported over seamlessly to Superior Drummer 3, and you can keep both VSTs and use them independently.
There are a host of other worthy competitors to EZ Drummer & Superior Drummer worth checking out. Here are a few I personally recommend:
GetGoodDrums (Check out Nick's fantastic review of GetGoodDrums)
Addictive Drums 2 (Check out Nick's fantastic review of Addictive Drums 2)
---