Disclosure: We may receive commissions when you click our links and make purchases. Read our full affiliate disclosure here.
Is The Apple Macbook Perfect For Music Production?
If you've been keeping an eye on Apple's social media recently (in fact any audio production social media) then you've probably been teased with the new Macbook Pro.
Apple have stated that this is the most powerful Macbook Pro so far and with the new 16'' screen it's also the largest in terms of display.
The screen itself has a resolution of 3072 x 1920 with a pixel density or 226ppi.
Great news for us music producers as well, as the RAM has also been upgraded (up to 64GB) and with a choice of 6 and 8 core processors (with Turbo Boost speeds up to 5.0GHz) you'll have no problem running your DAW.
In fact for Logic users, Apple have stated that the improved performance will allow up to 2.1 times the amount of Amp Designer plug-ins.
Apple (being all about the customer experience) have also upgraded the keyboard which will be 'satisfying and quiet' whilst also bringing back a physical escape key.
We're not 100% sure why they have chosen to do this but no doubt a lot of time and money went into research before making this decision!
We're also told the new thermal architecture will allow higher performance for more sustained periods of time and you'll have access to 1TB of storage.
Ever wondered why DJs Use MacBooks? Now you know!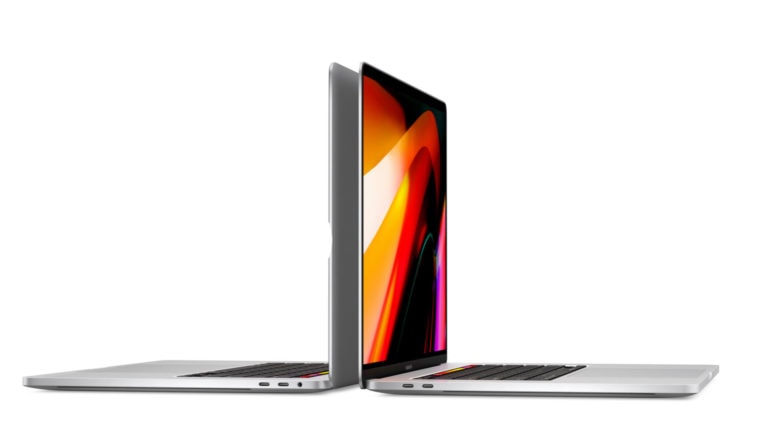 If that's not enough however, you'll have the option to upgrade to 8TB of storage should you need it, perfect for those who are fed up with carrying an external hard drive everywhere with them.
Alongside 'next generation' graphics performance there have also been improvements on the audio front with a 6-speaker sound system and inbuilt microphone that will supposedly rival any other digital microphone due to its excellent signal to noise ratio.
Lastly, the new Macbook will come with a 100w battery which, as we're told, is the largest ever in a Macbook.
Don't Miss Out On These Black Friday 2019 Deals!
Don't forget to bookmark our
Black Friday deals page
as we'll be keeping you updated with the best offers as they come in.
Elsewhere on the internet, some eagle-eyed Apple fans spotted a glimpse of the new Mac Pro on Calvin Harris' Instagram page.
There's been a lot of buzz around the Pro, which is yet to be released. Harris evidently got to the front of the queue and bagged himself the new model.
The Best Black Friday Macbook Deals
For those of you on the lookout for a deal then you're in luck as there are already Black Friday offers surfacing on Macbooks over on Amazon.
The price of the Macbook Pro, 15'' Intel Core i7 with 256GB of storage can be found here. With 16GB of RAM this model is a great choice for those wanting to create and edit music as it will run your DAW quite comfortably (even the more demanding Pro-Tools).
Apple MacBook Air
Available in silver, space gray and gold, this MacBook Air (2020) features a stunning Retina display with True Tone technology, Touch ID, a backlit Magic Keyboard and a Force Touch trackpad—all housed in a thin and light iconic wedge design made from 100% recycled aluminium.
Why We Love It:
Incredibly thin

Retina display

Redesigned keyboard mechanism
View Price on Amazon
View Price On Guitar Center
If you're looking for something more portable, we've spotted this Space Grey 13'' Macbook Pro with 8GB of RAM and 256GB storage on sale for Black Friday (Check price on Amazon here).
Apple MacBook Pro
It's razor thin, feather light, and even faster and more powerful than before. It has the brightest, most colorful Mac notebook display ever. And it features the Touch Bar — a Multi-Touch enabled strip of glass built into the keyboard for instant access to the tools you want, right when you want them.
Why We Love It:
Beautifully curated

Great display

Touch bar
View Price on Amazon
View Price on MusiciansFriend
There are also some great discounts on various Macbook Air models. Check out these savings on the 13'' Air with 8GB RAM and 128GB storage.
Apple 13" MacBook Pro
Features a 13.3-inch (diagonal) LED-backlit glossy widescreen display with support for millions of colors, 128GB PCIe-based flash storage | 8GB of 1600MHz LPDDR3 onboard memory and 1.6GHz dual-core Intel Core i5 processor.
Why We Love It:
Great display

Good storage
View Price on Amazon
View Price On Sweetwater
---
Don't Miss Out On These Black Friday 2019 Deals!
Don't forget to bookmark our
Black Friday deals page
as we'll be keeping you updated with the best offers as they come in.