Disclosure: We may receive commissions when you click our links and make purchases. Read our full affiliate disclosure here.
This summer, Croatia's 4th Membrain Festival partners with Bristol's infamous Noise Test.
The festival plays host to 80 artists from all corners of the globe.
Hosted in a beautiful, remote camping site from former Yugoslavia.
---
Membrain Festival: 80 Artists, 4 Days, Infinite Vibes
Membrain, Croatia's only home-bred, underground bass festival unveiled the exciting union with its biggest lineup up to date boasting 80 international artists representing a mix of cultures and global music movements.
Dalmatia will host this spectacular alliance in Martinska Bay, Šibenik's exciting new festival hot spot for a long weekend from Thursday 8th to Sunday 11th of August.
Featuring DnB Heavyweights Loxy & DLR
Regarding the lineup it's hard to define the biggest single names in the European underground scene but we cannot ignore the force that is Loxy – London's biggest DNB asset who's been at the forefront of the experimental and deeper side of the genre's evolution for two decades, alongside DLR a household name representing the cream of the crop for the more fast-paced DNB.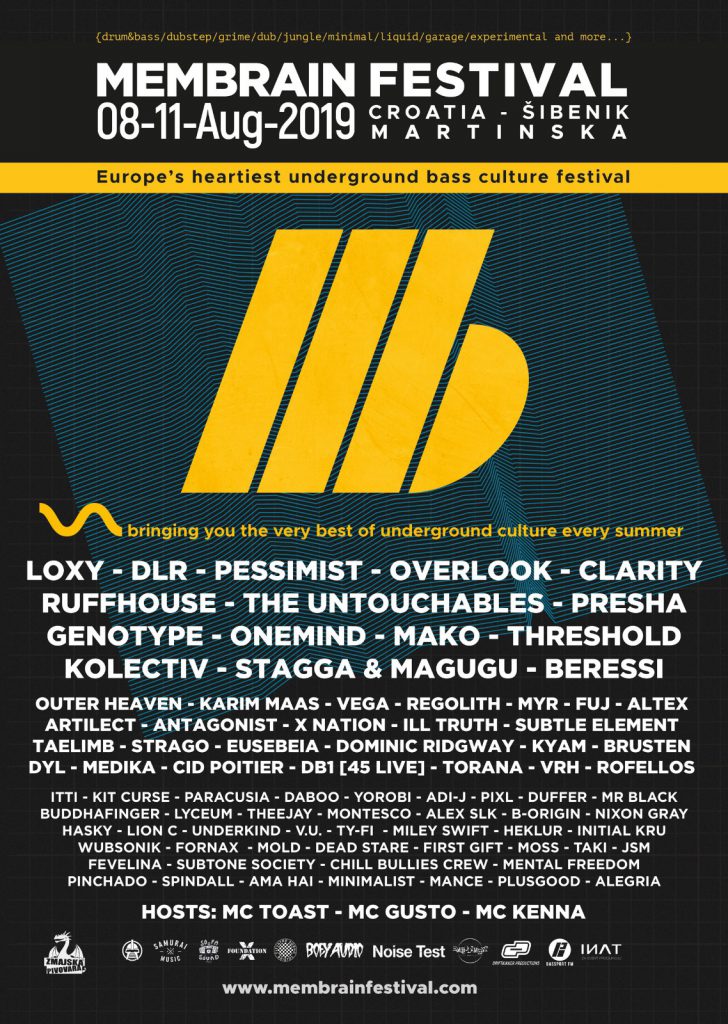 Explore the deeper, darker sides of DNB, Techno, and Ambient.
Membrain Festival is not a strictly DnB education. The explosive duo Stagga and Magugu will also be making their Croatian debut like many others bringing a huge, fresh dubstep/bass/140 sound with Magugu's infectious, heavy-handed 'pigeon rap' alongside.
Hamburg's Beressi, a key player in the huge, global LO-FI movement, recognised for his specific and classic combination of old skool hip hop and modern sub bass elements will also, among many others be making his Croatian debut. Rude FM's Spindall will be doing a special UK Garage set and Membrain and Noise Test residents will fill any genre voids, exploring everything from Ska, Reggae, Psy-Trance, Dub, Footwork, Tropical and so on!
Expect Stage Takeovers
Expect stage takeovers from Loxy's Cylon Recordings and DLR's Sofa Sound, as well as Presha from Samurai Music with a highlight appearance and last-minute addition from The Untouchables – a dangerous duo from Brussels, focused on seriously heavy sub sonics.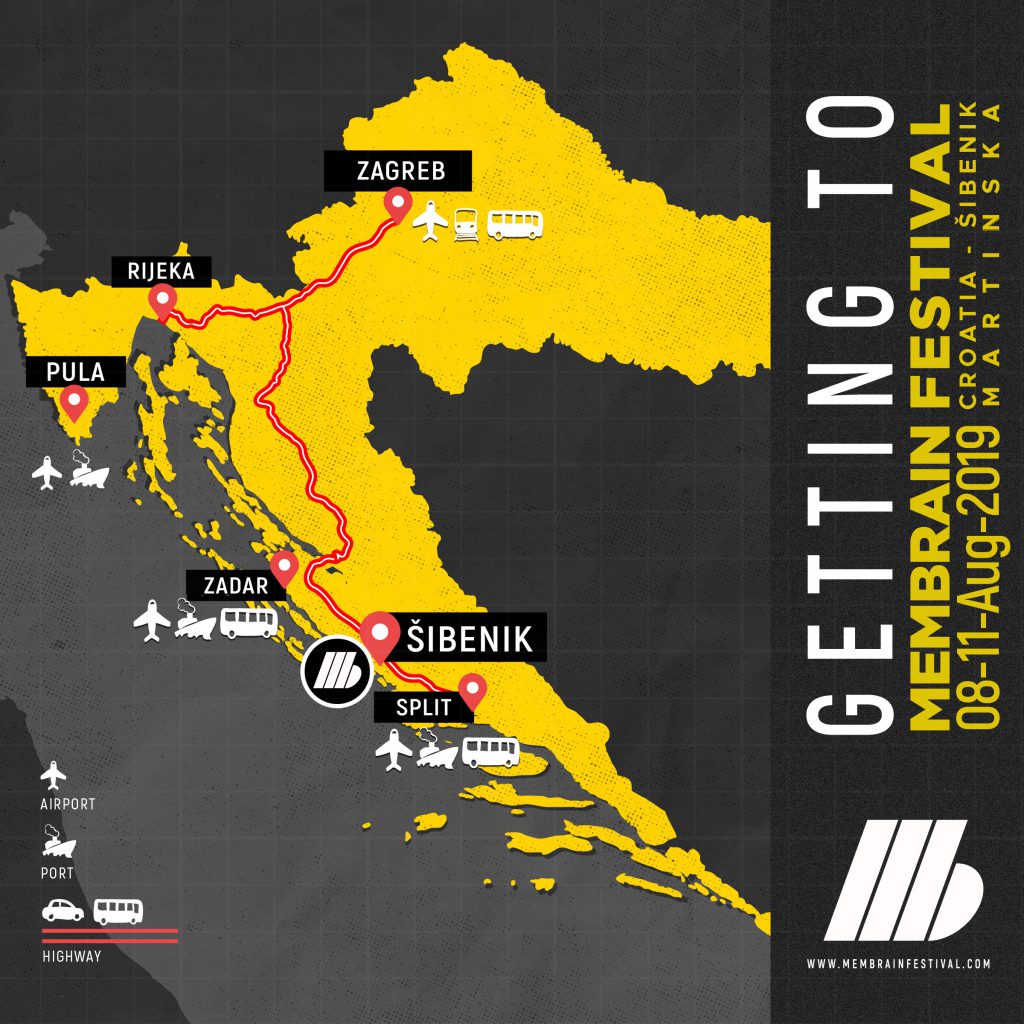 X Nation, Foundation X, Elevator Sound & UVB-76 Music
X Nation will be representing UK Jungle with him and Skitty's label Foundation X, an appearance from Elevator Sound, Bristol's experimental modular alliance and UVB-76 Music's whole super team; Pessimist, Overlook, Vega, Clarity and Karim Maas, teasing the fusion between Atmospheric DNB and Techno with the trio Ruffhouse playing a rare appearance as all three members!
Other legends worth a mention is Genotype whose career has stamped him on every respected label in the scene, the incredible OneMind, the new collaborative project between DLR and Mako. Ireland's Altex will be taking over a stage bringing that duppy Boey Audio sound!
Expect sports and fun in the sea with a waterfront stage, this year is expected to be an unforgettable experience.
---
We caught up with Davor Dedić, CEO and one of the principal organizers for Membrain Festival.
Croatia is spoiling us for choice of Festivals again this year… why should one choose Membrain over the rest? In other words, what sets Membrain Festival apart?
That is true, Croatia is probably somewhat of a new Ibiza in terms of summer clubbing and festivals, which is great for anyone looking for a variety while having a summer holiday. However, the vast majority of events are orientated towards mainstream culture. Membrain goes against the grain with its concept — we represent the underground core in sound and ethos.
Our concept is culture soundclash, reminiscent of raves back when the whole movement started with the difference that it's happening on Dalmatian coast, we are predominantly representing urban bass culture, dnb/dubstep/halftime/global/dub.. and all relevant sub-genres.
For the tech-heads, can you tell us a little bit about the sound system?
We have two local DIY hand-built soundsystems serving the sound on the festival, Boca Soundsystem and Bass Matters Soundsystem, both renowned for their attention to detail and sound quality, Boca is being the bigger soundsystem of the two, this is what they look like in tech terms.
Boca SoundSystem
DIY Soundsystem
Sub: Hogscoop with Oberton xb1500 18″ drivers
Kick: ES18bph with BC 18tbx100 drivers
Mid/highs: Turbosound floodlight tfl-760h
This is one fine Bordeaux beast that'll blast you away with 35KW of pure eargasm.
Bass Matters SoundSystem
4/5 way and boxes entirely DIY
Sub: Modified Super Scooper 18
Kick: DD15
Mid/highs: Modular MT121
A custom scheme was made specifically for Bass Matters by Stipe Ercegović, the inventor of legendary Hogscoop (one of the most used subs in DIY System waters). Power of the system is about 6.6 KW (not peak, but energy KW).
Some of the brands used are B&C, BMS, A&H, Lab Gruppen, RAM Audio.
Even though both soundsystems come from reggae/dub backgrounds, the systems were conceived and operate linearly, so that the sound reproduced is satisfying unrestricted to the genre of the music played through.
Find out more about the Boca Soundsystem here.
Find out more about the Bass Matters Soundsystem here.
What kind of vibes can we expect from the venue? Can you tell us a little bit about how you discovered this hidden gem, and what's the story there?
This new one is all open air. It's an abandoned camping site from the times of former Yugoslavia, it has a very special character due to its history and natural surroundings.
Being a pier, it gives off a perfect sense of isolation where all will feel more together in a world we create and share with each other.
Finding the location was an extension of the efforts we've put in for previous installations of Membrain Festival. This year, our original location is undergoing some changes as the Fort of St. Nicholas is being reconstructed, and so was unavailable.
However, we had an unexpected positive turn of events when we joined forces with other independent local promoters — this new spot in Martinska is perfect for celebrating alternative culture.
The reason for choosing Martinska was its long history as an important traffic point before the Sibenik Bridge was built in 1996. The location also served as a punk-rock festival and dub events hotspot for over 15 years, co-organised by members of Bass Matters. So it made perfect sense to collaborate on this joint venture.
---
Find out more about Membrain Festival, including ticket prices and full line-up.
Read Sonic Nutrition's interview with Membrain Festival CEO, Davor Dedic.