Disclosure: We may receive commissions when you click our links and make purchases. Read our full affiliate disclosure here.
VERDICT
There are a few creases to iron out but what they have created does exactly what is advertised – its portable, lightweight and great fun.
PROS
Lightweight & Portable
Fun & Intuitive
CONS
Takes A Bit Of Getting Used To
Many reports of delays and people not receiving their orders.
Use Code UTJQRIE1OI & Get $50 Off
Editor's note as of November 2022: We've noticed a high report of customers not receiving their Jammy orders due to backlogs. While we think the Jammy guitar is a fantastic product, we would exert caution before ordering. Consider checking out the Jamstik instead.
Jammy: A MIDI Guitar That Fits In Your Backpack
The Jammy is a backpack-sized controller which successfully raised over $260,000 on Indiegogo and went on to win the NAMM Best In Show award. The Jammy was included in our roundup of the best MIDI guitar controllers (check it out here).
The Jammy is aimed at both music producers and hobby guitarists alike and offers the ability to record as a standard MIDI controller but also as a guitar either via USB or guitar jack output.
Before we start this review, it's worth mentioning that I am a guitarist first and foremost.
Although I dabble in synthesizers I would probably call myself an intermediate and so I was particularly excited to have the chance to try out the Jammy.
Playing like a guitar but creating synth sounds seemed like a perfect crossover!
Use code UTJQRIE1OI when you checkout and get $50 off your purchase.
First Impressions
The Jammy comes in a slick-looking black box, in fact, everything is either black or silver. Very cool. 
Opening the box you'll find everything you need to get set up including a strap, strap pins, USB lead, soft carry cases for each component and even some customized Jammy plectrums.
The Jammy itself comes in five parts – the neck section, bridge section, the 'scratchplate', another section which completes the body and a locking plate which holds everything together.
At first, it was a little confusing to set up but after a quick look over the instructions, I realized how quick and easy it is to assemble and disassemble.
Slot the two neckpieces together and the body components and you're good to go.
Have to admit — It was a little unusual to hold a guitar so lightweight and made of plastic.
Of course, this is a portable MIDI controller first and foremost so don't expect it to have the satisfying weight of a Les Paul on your knee! 
One of the unique aspects of the Jammy is the steel strings.
These are designed to give an authentic electric guitar feel and are a great way to bridge the gap between the MIDI controller and guitar.
Once I'd put everything together and plugged in it was time to take the Jammy for a test drive.
Playability
Let's face it — guitarists can be difficult to please.
Whether it's the wood used in manufacturing, the neck shape, the pickups, the bridge – all these factors can make or break a player's opinion of an instrument.
It took a little while to get used to the Jammy's size, weight and dimensions and while the steel strings offer a certain amount of realism, it still feels somewhat unnatural to play.
As the neck and bridge section are separate so are the strings, so while playing your picking hand is hitting one of 6 open strings whilst your left-hand frets one of another 6 strings.
The downside with this is that if you can hear the strings above what you are recording then all you really hear is the open string you are hitting with your pick hand.
This can throw you off a little as on any 'normal' guitar you'll hear whatever note you are fretting.
However, I would reiterate again that this is a portable MIDI controller. It isn't supposed to give you a 100% realistic guitar experience, it's designed for music-making on the go and so in that sense, it would be unfair to judge the Jammy based on how it compares to a regular guitar.
The functions are easy enough to use.
Upon powering the Jammy up you'll need to give the unit a few seconds to calibrate so that you don't end up out of tune or finding the wrong notes are outputted.
This was a concern with the controller having steel strings but looking at the fretboard it seems that the notes are picked up by sensors on the frets themselves.
In terms of output, you have a USB 3 output for use as a MIDI controller and a standard guitar jack output for hooking up the Jammy to an amp simulator in your DAW.
Where you would find the guitar's tone and volume controls lies a single rotary knob for adjusting the level of the output.
All in all it would probably take less than 5 minutes to get from the box to recording.
Jammy As A MIDI Controller
The first thing I did was hook up the Jammy as a MIDI controller using Logic and some of their standard software instruments.
Actually, I tell a lie, the first thing I did was use the Jammy with Logic's drum kits! The idea of using a guitar to create a beat was one of the things that intrigued me most about the Jammy and I spent a good ten minutes playing around with the various notes on the fretboard to find what they corresponded to.
Once I'd got past the initial issue with the string noise the Jammy started to become a lot of fun.
I'd argue that it would still probably be easier to program a beat that uses the guitar itself but it was great for getting a simple kick/snare beat going which can easily be quantized and formulate the basis of a song.
I then moved on to some of Logic's guitar emulators which felt much more natural (most likely as I was hearing the kind of sound my brain has been trained to expect from a guitar).
I did notice as I began playing that the Jammy did require me to be quite accurate with my left hand and the synchronization of both.
If you don't quite fret a note correctly or aren't completely correct with your picking it can lead to dead notes. This can also be an issue when sliding, hammering on or tapping. 
Vibrato also seemed a little synthetic and didn't sound quite as authentic as I'd have liked but this is also more than likely down to the software instruments themselves.
Again, however, this is not a guitar and so the Jammy can't really be compared to plugging a Telecaster into a Vox AC30. 
Some of the real fun actually comes when playing through synthesiser plug-ins (or anything that doesn't sound like a guitar).
Utilizing a slow attack time with open chords allows you create some quality sounding, lush volume swells whilst loading a sawtooth wave allows a much more aggressive electro sound. Loads of fun!
Have a listen to some of the audio examples below to get an idea of how the Jammy sounds on both synth and guitar parts.
The Jammy App
The Jammy offers a compatible smartphone app which cleverly connects to the guitar via Bluetooth.
From there you are offered a selection of clean and distorted tones as well as a series of virtual stompboxes to choose from depending on the style you want (ranging from 'Rock Solo' to the more extreme 'Noisy Shoegaze').
The stompboxes allow you to change presets and so offer a variety of tones and the app will also allow you to change some of the Jammy's settings such as the sensitivity.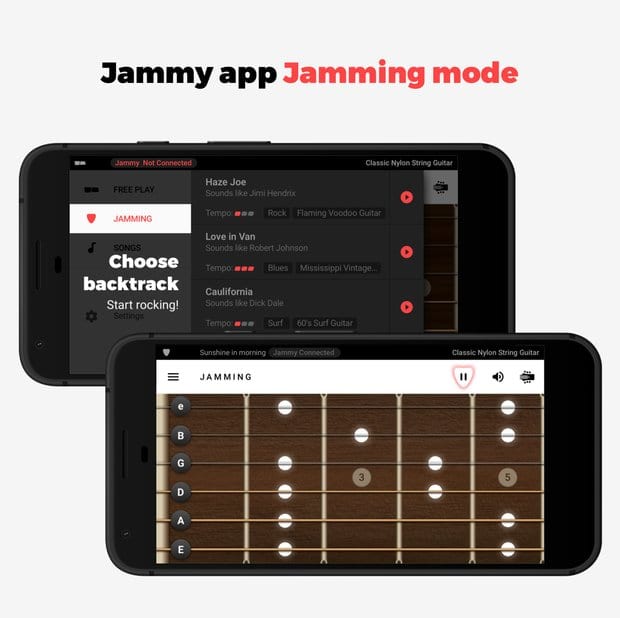 There is also an in built metronome for those looking to tighten up their riffing and a series of backing tracks in various style for you to jam along to.
There were a few issues with the app however. There didn't seem to be an option to lower the sound of the Jammy when playing to a backing track and that caused the backing to be drowned out by the sound of the guitar. This did seem a bit of a big flaw as the only option was to either turn down the master (ie both guitar and backing) or just the backing itself. I could be wrong and just missed an option to lower the Jammy but this did inhibit the backing track function. 
There was also the ongoing issue of dead notes which became quite common when playing via the app. There was also a certain amount of bitcrusher type distortion on the signal which was a little off putting, but this could potentially be down to the Bluetooth signal.
The app itself was still a lot of fun to use. It was unusual to not be using headphones plugged into my phone but rather the Jammy itself but that added a certain amount of freedom in the same way a wireless pack does!
Check out some of the Jammy's tones in the video below
Final Thoughts
The Jammy is certainly a fun bit of kit. It's difficult to judge the unit on its guitar functions and expecting it to have the same feel and be as intuitive as a guitar would be unfair.
It did feel that it has a little way to go as a functional guitar if it was to be used in a studio but then again the Jammy isn't designed for this.
It's intended to be portable, lightweight and for those on the go (and perhaps those heading to a recording session after work who don't want the stress of transporting a guitar and hard case on a rush-hour train!).
So taking into account what Jammy are aiming to achieve, this is a really cool piece of kit that is a lot of fun. Rather than judging it next to the Fender Jaguar hung up in your studio think of it more as a really intuitive and expressive MIDI controller and you'll see that there is a lot of potential with the Jammy to create some unique sounds that a MIDI keyboard would be incapable of.
With the release of the Expressive E keyboard recently, it seems that the next step for MIDI controllers is the idea of finding added ways to colour your sounds and while you won't get a super-strat-screeching-vibrato-through-a-marshall-stack type tones, you will be able to enhance your tracks in a more intuitive way.
We can definitely see a bright future for Jammy. There are a few creases to iron out but what they have created does exactly what is advertised – its portable, lightweight and great fun.
Use code UTJQRIE1OI when you checkout and get $50 off your purchase.