Disclosure: We may receive commissions when you click our links and make purchases. Read our full affiliate disclosure here.
Check out these home studios that use LED light strips to their maximum potential.
Get ideas on how to use RGB LED strips for your room/music studio.
We reveal our 3 favorite smart LED strips and 3 best regular LED light strips to save you time browsing through hundreds of them (yeah, it's a bit nuts).
---
What Are The Best Strip LED Strips For
Your

Room/Home Studio?

When thinking about which RGB strip lights are right for you, there are a few things to consider. Without getting too technical and boring you to death, there are a few things worth considering before buying. Do you need them do be dimmable? Voice activation? How bright do you want them to be?

Theres a fair bit to think about, especially as you're going to be spending a lot of time in your home studio you'll want to pick the right option.

Here are the 7 best strip LED strips for your home studio.

If you're into music studio lighting goodness, check out our other post that features a whole array of wacky and cool LED lighting solutions that you can use to pimp out your workspace with.
Our Top Picks: The Best SMART RGB/LED Light Strips
Ah, SMART technology… this is where it truly gets exciting. Our honest opinion is that if you're going to go all out in pimping out your studio with beat sync lights, you better go hard or go home.
Over the past few years, we've seen SMART RGB light strips improve majorly in several areas including better animations, wider spectrum of RGB colours and even energy efficiency and waterproofing.
Some of the biggest advantages of using SMART RBG light strips are:
Not having to use the wall switch: Say goodbye to ever having to use your hands again. It's technology like this that makes it seem like that's the way society is headed. Besides, isn't it so much easier to just ask your speaker "Hey Alexa, turn on the lights" while you continue to laze in bed snacking?
Smart sensors that detect movement: You can now set up smart sensors in each of your rooms so that as soon as you walk through the door, the lights switch on. Futurism is here, boys and girls.
Adjustable brightness and colors: Who says your light level has to be one dimensional? Are our moods one dimensional? Absolutely not — and so smart technology allows us to fine tune our lighting right down to the very hue.
Timed lighting: For those of you who are men and women of routine, the thought of having lights turn themselves on and off at precisely the time you desire might be something that appeals to you. The use-case scenarios stretch even further though. Many use this feature to deter burglars by giving the impression that people are home. Genius, hey?
Lights that change to the beat of the music: If there's any reason why these LED strips are so popular among gamers and musicians, it's for this one feature. If you haven't already experienced this, you're missing out.
First up are our top 3 SMART RGB/LED Lights for your room, lounge or home studio.
1. Govee Smart WiFi LED Light Strips
The Govee LED Light Strips are a popular addition, and have been gaining a growing number of adoring fans for their quality smart LED strips. Full product specs and details can be found here.
In order to take full advantage of the lights, you'll need to download their app, called 'Govee Home'.
We loved how simple it was to set up: simply create a login, hold down the button and watch as your lights come to life.
Pairing it with the Google Home or Alexa account allows you to effortlessly command the lights to switch on/off, adjust brightness or switch 'scenes'.
The timer feature is very neat, which allows you to program the LED strips to switch on/off at a specified time/interval of your choice.
The LED lights themselves are bright, but definitely not the brightest of the bunch here. That being said, we still ended up dimming them anyway so there's plenty of headroom to be had here. The colors are solid though, and the multicolor option is phenomenal. Sync to music works great, and the animations are plenty.Amazon product
Govee LED Smart WiFi Strip Lights
Supports both Alexa and Google Assistant. Use voice command to turn lights on and off, set colours or change even brightness.
Why We Love It:
Simple app to control lights

Phenomenal multicolor option

Plenty of animations
View Price on Amazon
2. Dreamcolor LED Strip Lights (Our Pick!)
Quality-wise, the people at Dreamcolor know what they're doing. It's a little unfortunate that they're also a bit too marketing-savvy for their own good, and effectively force their users to sign up for their app in order to use most of the functions that come with the LED strips.
That being said, if you're OK with downloading and using their Govee Home app, the effects, automations and software itself is phenomenal.
The LED strips themselves are as bright as you'd ever need them to be (and dimmable if they're even too bright for you), and are evidently built to last with a quality rubberize shielding along each of the strips.
If you want to read more about the product specs and features, click here.
It was very easy to pair the strips with Alexa, and the sync to music function was also an effortless setup process.
All in all, this is a great option for those looking for quality animation features, an intuitive app (that unfortunately is compulsory), and lights that should stand the test of time.
Our Pick
DreamColor LED Strip Light
Featuring a variety of colours and brightness that can be changed simultaneously with frequency changes, its perfect ambient light will give you an amazing visual experience.
Why We Love It:
Built to last

Quality animation features

Intuitive app
View Price on Amazon
3. Nexlux LED Strip Lights (Best Features)
The Nexlux are by far one of the most popular LED strip lights available on the market right now, and it's clear why. You get incredible features, quality and reliability all at a very reasonable price.
In fact, price-wise it's definitely the most competitive we've seen.
They're super bright, and combined with the native app or Alexa/Echo, a lot of fun to program while being easy to use. Unlike a lot of the cheaper entrants in this market, the Nexlux's instructions actually made sense, which is a rarity!
The 'sync to music' feature works a charm, allowing you to effortlessly program the lights to react in accordance to what is playing. The effects are spectacular in that they really do a remarkable job of enveloping you in an aura of futurism. It's definitely a lot of fun to produce music with them on, but if you find them distracting — of course, you can turn them off easily. Just ask Alexa/Echo to do it for you — boom, no hands!
You're basically getting almost all of the features of the
Philips Hue
but at just a fraction of the cost.
4. Honorable Mention: Philips Hue Lightstrip
We thought we'd give the Philips Hue Lightstrip it's own spotlight because to be completely honest, it is in a league of its own in terms of smart lighting features, quality and customer service.
Features we love about the Philips Hue Lightstrip Plus are:
You can snip the lights to any length (impossible with many other brands without breaking them)
You can link up to 8 x 1m extensions together
Over 16,000,000 colors (the best the industry has to offer)
Able to produce true white light (many other brands often still have a tint of color to their 'white')
It's powerfully bright, with up to 1600 lumens which is about average for most regular lightbulbs
Compatible with everything: Alexa, Google Assistant, Siri, Echo — all of it!
Timer features and full remote control via the app
*Click here to view more details about the Philips Hue Lightstrip*
The Pinnacle of Smart Technology
Philips has really taken 'immersion' to the next level, here. Paired with the Bridge (sold separately), you unlock various features that could've been picked out of the Twilight Zone or Star Wars.
One feature is that you can sync it up to video games, movies and music to create a dynamic display/light show around you.
So, get this — based on what is playing on your monitor or TV, you could program the lights to intelligently dim/brighten as the scenes of a movie changes. For instance, a really dark, night-time scene would trigger the lights to glow an ominous green.
Remember that to get the most out of the Philips Hue, you'll need to purchase a Philips Hue Bridge (which comes in the Hue Starter Kit). They're also sold separately, too.
---
Our Top Picks: The Best Standard RGB/LED Light Strips (Non-Smart)
If you're looking to spend a bit less, and aren't too concerned about having lights that pulse to music, then the list below is for you.
After looking at almost enough RGB lights to send us blind, here are the top 3 'standard' RGB/LED light strip kits that we shortlisted as being the best of the bunch across a variety of price ranges.
1. Minger LED Strip Lights (Our Pick!)
Where I'm from, a 'minger' is usually a derogative term usually used to describe someone or something you hate…
Odd product naming aside, the MINGER LED Strip Lights do a wonderful job of lighting up both gaming and music studios alike. Check out the full product details here.
They are super bright, and of course — dimmable if they're a bit much for you. While it's not SMART controllable, you can always add an adapter down the line if you wish to add that functionality. The remote controller has most of the functions you'd ever need, including dimming, and a modest selection of animations.
The adhesive sticky glue isn't the best we've used, however, a lovely feature of these is that they come with clip attachments which do a wonderful job of attaching them securely and neatly to any surface.
2. 'LED Strip Lights Waterproof' (Vivid Colors!)
By far the strongest 3M adhesive out of the lot, this one sticks so firmly we struggled to remove them. If you have super expensive furniture that you don't want to be damaged, you might want to think twice about using these — but if you want 100% guarantee that they'll never fall off, these are the winner.
The lights themselves? Bright, vivid colors, and everything you'd hope for out of a set of LED lights designed in 2021. Check out the full product specs here.
The remote control is easy to use and has a nice array of modes you can select from including 'Flash', 'Fade', 'Fast', 'Slow', etc. Dimming and brightness control works well as expected.
It's waterproof, so if you're planning to set some up outdoors, they'll work a charm too.
3. ELlight RGB Strip Light (Most Customizable)
Worth every cent. If you want a set of LEDs that can intelligently listen to your music and react with precision, this is the one for you.
Quality brightness with an excellent range capability via the controller, which is a lovely addition. There are about 25 dynamic music modes, which range from a variety of blinking and 'transition' patterns, and 5 levels of brightness.
The lights are consistently bright, but also dimmable to your desired level.
---
LED Light FAQ
Are Smart LED Lighting Solutions Expensive?
Nope — they've actually become super affordable, and now that many players have entered the market we now have a wide variety of RGB strips to suit a variety of budgets and needs. As a result, we're seeing smart LED light strips become a staple in homes and music studios around the world.
Can LED Lights Help With Productivity?
Studies have shown that LED lighting can have a profound effect on your health, particularly your mental state. It's been proven to have links to helping with productivity, alertness, and even aid with serious issues like depression.
So, practically speaking, can you use LED lights to increase your productivity in the studio? The short answer is yes, but of course this should be taken with a grain of salt.
Because let's face it, LED lights alone aren't going to cure that social media addiction that eats up all your music time!
Best Colors For Focus & Motivation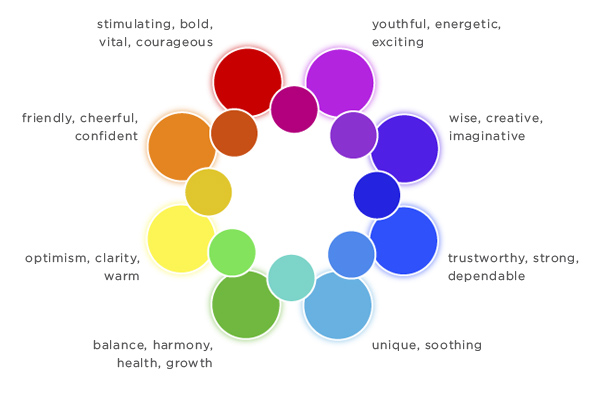 Believe it or not, science has shown a distinct correlation between how each of the 4 primary colors (red, blue, green, yellow) have profound effects on the mind and body.
Here's a handy guide as to what colors to set your LED lights to if you want to leverage the power of color psychology.
Red (Physical Stimulation)
Red, as you might expect, being the symbol of rage, energy, and warning signs, is indeed a powerful one in its physically stimulating properties.
It evokes that 'fight or flight' response in us, gets the adrenaline going, and as a result, is perfect for those who work well under stress.
Use red sparingly, as it can become overwhelming and might hinder your productivity.
Blue (Clarity, Calmness)
Blue, in contrast to red, is a lot more soothing in nature, reminiscent of the calming properties of the ocean. You might have noticed that blue is quite a common color used in office spaces, and that's precisely why — it is calming, promotes wakefulness and supports clear communication.
Blue LED lights are optimal for any time of the day or night when you want a boost of clarity and focus in your work.
Yellow (Positivity)
A splash of yellow in any home studio is a surefire way to inject some positivity into your mood.
It's the strongest psychological color, and can have a profound effect on stimulating your imagination and creativity in the studio.
Pop yellow on if you're hit with a bout of writer's block, or just feeling generally down. It could just give you the push in the right direction that you need to get back on the productivity train.
Green (Balance)
Green is a favorite among gamers and producers as it does not strain the eyes. And if you're like most people in both those categories, music/gaming sessions can go on for hours on end.
In terms of mood-alteration, green has been found to evoke a sense of calmness and reassurance.
So, if you've had a particularly stressful day and are looking to soothe that anxiety, put on a splash of green in your studio and let your head unwind.
Do LED Light Strips Get Hot?
The temperature of LED light strips will vary from company to company, though most good LED strips in 2021 are designed to be underpowered at component levels to prevent keep them cooler than their maximum capacity, reducing the risk circuitry damage and fire hazards.
Are LED Light Strips Safe?
They will feel warm to the touch after being on for long periods of time.
Under improper care, all electronics could potentially be dangerous. Fortunately with waterproofing, and better circuitry in today's day and age, safety risks are minimal.
Always consult an electrician when installing mains-wired strip lighting.
Do LED Light Strips Use A Lot Of Electricity?
LED strip lights have become incredibly cost-efficient to run in 2021. You'll expect to spend just over $10usd a year running a typical 10w LED strip light, whereas with a traditional light bulb, this might cost you upwards of $80USD a year. This is due to the fact that LED converts 90% of its energy into light.
A traditional incandescent 40w lightbulb puts out about 400 lumens. A 1 meter strip of LEDs will produce the same amount of light, but draw less than 5 watts!
If you're a DJ and looking for the best lights, check out our pick of the top 7!