Disclosure: Some posts contain affiliate links, which earn us a commission if you make a purchase through them.
Cheap studio desks often get a bad wrap for being bad quality, but not all are made equal.
Low price point to suit the producer who wants an economical and efficient workstation.
Hands-on, honest studio desk reviews so you can make an informed choice.
---
Photo
Compact & Sturdy
Our Pick!
Best Value
Name
Ultimate Support JamStands Studio Workstations DJ Gear Stand (JSSW300)
Studio RTA Work Station Maple
On-Stage WS7500 Series Wood Studio Workstation, Rosewood
Compact & Sturdy
Photo
Name
Ultimate Support JamStands Studio Workstations DJ Gear Stand (JSSW300)
Our Pick!
Photo
Name
Studio RTA Work Station Maple
Going into this I had some reservations about how much quality I could really get for $400.00 and under — especially after conducting such thorough reviews on some the best workstation in the business. I'm glad I didn't take give those reservations too much heed though, because I was not only delighted with the results, but also thoroughly impressed.
If you're looking to upgrade that ratty IKEA table that we have all had at one point in our life then look no further. Below, we have compiled our thoughts on 5 studio desks worth considering when you are shopping on a budget.
---
5 Budget Studio Desks Under $400 in 2019
The best studio desks that we could find under $400 (that weren't a total waste of money), were the following:
Onstage – WS7500 Wood Workstation (Our Pick)
StudioRTA – Creation Station
Jamstands – JS-SW Workstation
Z-Line Designs – Cyrus Workstation
Onespace – Regallo Expandable 'L' Studio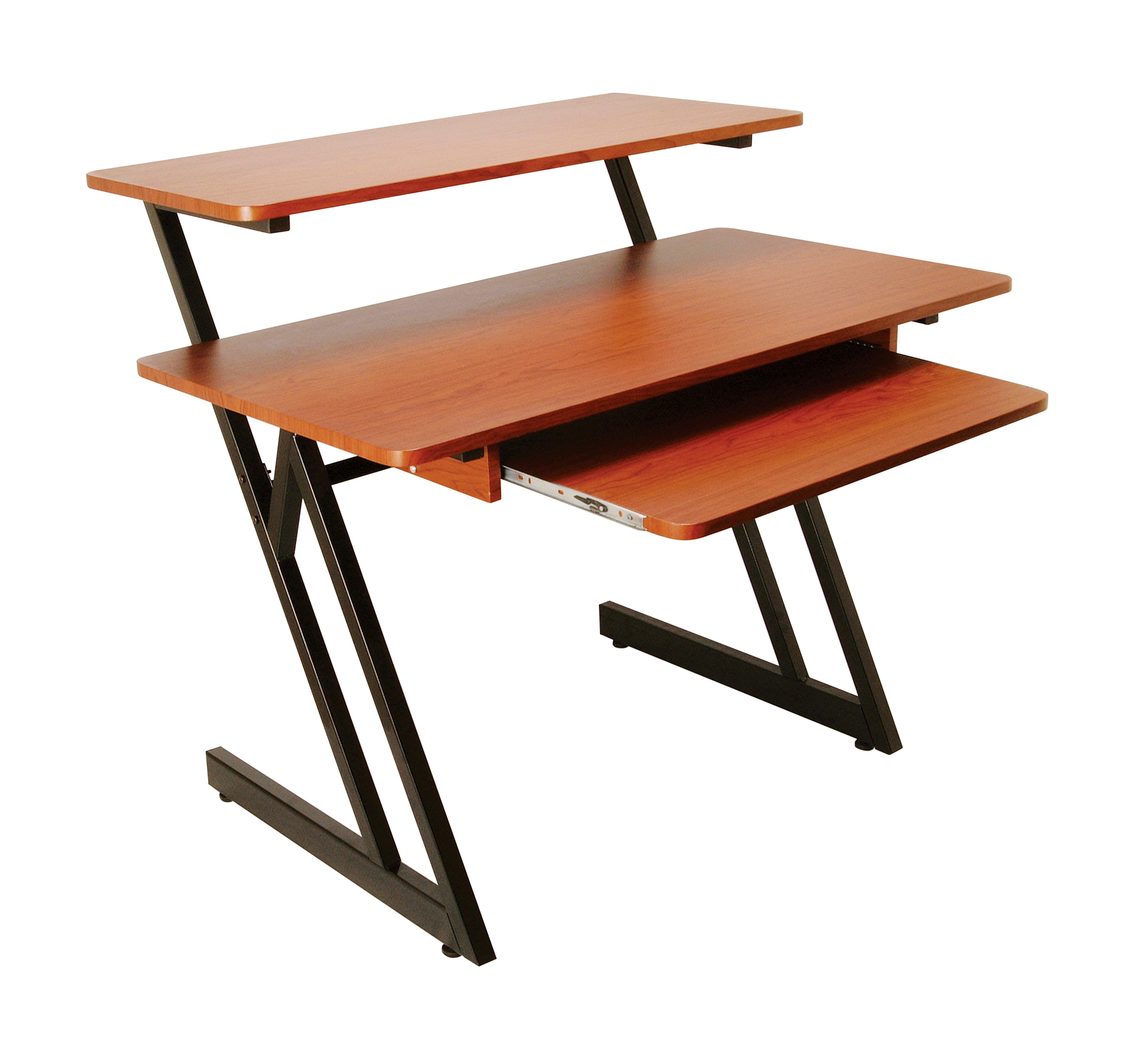 Simple, practical, and at a price that appeals to the even the tightest of penny pinchers, the On Stage WS7500 is one of the most popular budget studio desks for producers.
The WS7500 is available on Zzounds | Amazon
What's in the box?
High-quality and affordable studio desk
Ergonomically designed for maximum comfort and efficiency
Sturdy, rectangular steel tube frame
Sleek, compact Z-frame with plenty of leg space
Hideaway keyboard shelf included
Pull-out shelf height (from floor): 25″
Weight capacity: 175 lbs.
Expansion and accessory options available
Dimensions
Main shelf dimensions: 29″ high (from floor), 43″ wide, 23.5″ deep
Top shelf dimensions: 37.5″ high (from floor), 39″ wide, 17″ deep
On Stage WS7500 Review
The On Stage brand is one I've been familiar with for a while. I own a pair of their monitor stands, and they've supported my Yamaha HS8 monitors without a hitch. So upon doing this review I was already going in with a reasonably high expectation of quality. It comes in 2 different colors, which you can have a look at here.
Assembly came with a few hiccups, a couple of screws did not align 100% accurately but with some determination, it all fit together. Also, some instructions on how to properly assemble the keyboard tray would have been nice. Fortunately, we have done this a zillion times, so we managed. However, if you do have issues there are assembly tutorials on Youtube that you can follow along to.
I believe the wood isn't actual 'wood', which usually raises concerns among furniture buyers but hey what can you really expect for a desk under $200? Whatever the material is, it certainly does do its job though, and that is to support quite a fair bit of weight under my usual stress test (a pair of 6.5″ Yamaha HS7s) and a 24″ monitor. In fact, the desk quotes a 175lb capacity of weight, which is mighty impressive for a desk at this price.
You're not going to get anything in the vein of rack space for outboard gear, but what you will get is a sturdy, 2-tiered desk that can comfortably hold a fair bit of weight, ample leg space and a hideaway keyboard shelf that you could use for either a keyboard or micro-sized MIDI controller.
Again, where this desk (and many others in this price range) suffers, is its lack of cable management features. Though with the myriad of separate cable management solutions you can buy today, you have to be a little forgiving as it is still a hell of a steal.
Ergonomically, it is comfortable to sit at, though some taller users have reported that they wish the 2nd tier was a little bit higher. This shouldn't be too much of an issue if you have an adjustable seat, though.
All in all, I'm pleased with the quality of the desk. It's one of the more popular studio desks in this range.
Pros
Sturdy, holds weight with confidence thanks to the well-designed Z-frame
Hideaway keyboard shelf is included
Expansion and accessory options available
Cons
Taller people (6 feet and above) have complained about the height of the desk being a little low.
Instructions could be improved upon
If you'd like to check out the desk in more detail, click here (opens in new tab).
If you'd like to find out more information about the specs, different color options, head to ZZOUNDS | AMAZON
The Studio RTA Creation Station Studio Desk is a complete computer-based home studio workstation that offers great features at a great price point. The large workspace can accommodate most synths and MIDI keyboards plus accessories. 2 locking casters offer stability when needed but also the option for mobility. A wide monitor shelf, dual 4-space 19″ rack bays, and a rear-mounted cable management system are a nice touch and further makes the Studio RTA Creation Station a great addition to any home or small studio.
It's available in 2 great colors: for more photos, click here (opens in new tab).
What's in the box?
2 large work surfaces
Full-length monitor shelf
Dual 4-space 19″ rack bays
Rear panel for cord management
4 casters (2 locking)
Dimensions
Dimensions (WxDxH): 151 x 75 x 95 cm
Height of the work plate (with rolls): about 65 cm
Distance from the lower plate to the middle plate: 53.6 cm
Space beneath the lower plate for the chair: 67 cm
Distance from the edge of the work surface to build up 45 cm from the center, 44 cm from the left and right edge
Studio RTA 'Creation Station' Review
The StudioRTA 'Creation Station' looks the part. The build quality, paint finish and construction are on par with some of the higher price-point desks I have tried, and I had the feeling I was sitting down at a relatively professional studio desk when roadtesting. The under-section is quite spacious and allows for a decent sized PC computer tower and/or printer depending on your requirements, not to mention a decent amount of leg room. I would have liked a slide-out keyboard shelf to allow for more desk space but this wasn't a deal-breaker for me (I have heard of users attaching their own shelf underneath with little difficulty).
The desktop is spacious enough for a keyboard, mouse, and accessories (effects units, samplers, drum machines etc) and a SMALL synth or MIDI keyboard. I have seen the odd photo of a 61-key controller on these desks, but in the name of comfort and aiding productivity I wouldn't suggest it. If you aren't a producer that is jamming out beautiful melodic synth lines over your tracks and are comfortable with the basic 25-key version then this desk is great. If not, I would suggest either attaching your own keyboard shelf underneath or buying a keyboard stand to sit next to your desk. It's a cheap studio desk that is great for space and also for tuning out and focusing on the music without the distraction of a screen.
The monitor shelf is decently wide and was able to fit a 22″ monitor and two Yamaha HS8's on IsoAcoustics stands. I personally prefer to work with dual-monitors so if I were to buy this desk would definitely opt for some cheap speaker stands as it isn't really capable of fitting all of them side by side.
The rear cable management system is a great addition to the Creation Station. I am pretty picky when it comes to hiding my cables so this was definitely a welcome feature to my OCD. The depth of the tray is enough for you to comfortably fit a few looms of audio cable, as well as power to your various units.
The included rack housing is a smart feature, especially when desk space is more limited. I have a rack-mounted RME soundcard and a few go-to rack units so found this to be a really beneficial inclusion. The only issue I could see was if you had a lot of gear crammed on the desktop it could potentially obstruct your access to said units.
Pros
Looks great
Simple assembly
Handy cable management shelf
Enough room for large PC tower underneath
Cons
Could be more sturdy
Cannot fit dual monitors + speakers on top shelf
If you'd like to find out more information about the specs, color options, etc, click here (opens in new tab).
---
The simple JS-SW300 studio workstation from JamStands has been designed to accommodate the small studio, bedroom, or apartment producer for a price that doesn't burn a hole in the pocket. The z-shaped design of the desk is built to maximize your vertical space while easily fitting into almost any size room. Constructed from steel, featuring a sliding keyboard shelf, and showcasing a large desktop surface area make this low-cost solution perfect for a wide range of project studios and professional environments.
You can check out more photos of the desk by clicking here (opens in new tab).
What's in the box?
Decent surface area for size
Sturdy welded frame construction
Open design for extra leg room
Second tier
Sleek Z-shaped design
Sliding keyboard tray
Dimensions and weight
Height:- Main Surface: 29.5″ – Keyboard Surface: 27.1″- 2nd Tier Surface: 40.3″
Width: – Main: 48″ – Keyboard: 42″ – 2nd Tier: 42″
Depth: – Main: 24″ – Keyboard: 15″ – 2nd Tier: 18″
Weight capacity: 175 lbs.
Finish: Black Laminate
Jamstands – 'JS-SW300 studio workstation' Review
If you're after a simple, well laid-out desk for your small studio that leaves a smidgen of a footprint (as much as a desk can), then the JS-SW300 from Jamstands is worth considering. It's cheap, it's surprisingly sturdy, and it's a breeze to assemble.
Just like the others, the keyboard tray can fit a small MIDI keyboard, synth, or standard keyboard and mouse combo.
The 2nd-tier monitor shelf can comfortably fit either dual screens or one screen and two speakers. I had a 22″ Acer monitor and pair of Yamaha HS8's on isolation stands fit quite comfortably up there. I did find the shelf a little high. I wondered why it was at such a height but can only assume it is for those that want to purchase 4-space rack units to have underneath it if they feel so inclined.
One complaint from me is the lack of cable management solutions. I feel it's pretty easy to implement some sort of option to cater to this in this day and age, even if you're making budget equipment. A simple 50mm hole would have sufficed.
Overall, WYSIWYG with this desk. It's simple and doesn't try to be anything it's not. It's a great space saver and an ideal choice for anyone on a budget or looking for a temporary studio solution (I'm looking at you, college students).
Pros
Solid construction
Easy assembly
Roll-out keyboard tray
Room for rack units
Cons
Monitor shelf may be a little high for some
No cable management
To view the desk in more detail (there are 3 colors to choose from as well), click here (opens in new tab).
---
While the Cyrus Workstation is touted as a computer desk, the discerning producer within us can see the many features it possesses to make for a great home recording studio workstation. Finished in an attractive cherry finish with black accents and clear tempered safety glass, this mobile workstation is a great option for those looking to get a sturdy and attractive workstation on a budget.
The spacious desktop work surface can accommodate a wide range of equipment and accessories, and the pullout keyboard tray is a welcome feature for small to mid-sized MIDI keyboards and synthesizers, or even just your standard keyboard and mouse combo. Mobility is achieved with castors (non-lockable) and the raised monitor shelf allows for dual monitor combo or single monitor with 2 speakers.
To view the desk in high-res quality and admire its beauty, click here (opens in new tab).
What's in the box?
Contemporary style desk in a cherry finish with black accents

Clear tempered glass with black border for safety

Chrome cylinder glass supports. Weight- 71.72 pounds

Pull-out keyboard tray with room for a mouse

Castors for easy mobility
Dimensions & weight
Width: 1220mm
Depth: 660mm
Height: 915mm
Weight: 71.72 lbs.
Our review of the Z-Line Designs 'Cyrus' Workstation Review
Firstly, this desk is built solid. It's easy to recognize the features that make this product a strong contender in the computer desk domain. Thick tempered glass supported by chrome cylinder supports. The sturdiness that is provided by these supports is coupled with metal grating on the sides that is strong and durable.
Beneath the glass top is a decently sized keyboard tray that has ample room for a track-pad or mouse. I have heard a few reports of users experiencing misalignment of the track and the tray coming off the rails before, which is worth noting (you can check out some of the reviews here).
Positioned along the back of this desk is a grated metal support structure for cable management, not to mention a circular. In the middle of this structure are three holes that you can run your cables through. They are tiered in a way so that you can manage and hide all of your cables, regardless of their location. This earned a tick from me as I think this is a simple option that all manufacturers can easily implement with little effort.
The entire desk rests on five castors, four on the outside and one on the inside. This makes for easy mobility while still remaining quite stable. The castors are non-lockable which was a con for me as it's an easy feature to include in the design stage. Why some manufacturers don't do this is beyond me. When you have thousands of dollars of gear on a desk, surely you want to safeguard against any mishaps by any means possible.
Pros
Robust construction
Tempered safety-glass top
Quite sturdy
Well thought out cable management system
Cons
Wood surface scratches easily
No rack-units like its competitors
Non-lockable castors
Users have reported keyboard tray breaking soon after purchase
If you'd like to check out the desk in more detail, click here (opens in new tab)
---
---
Domo arigato, Mister Regallo. The last desk in our budget studio desk series is one from OneSpace, a relatively unknown brand that designs a variety of home furnishings. Check out the desk's price on Amazon by clicking here.
What's in the box?
Unique space saving design

Easily converts to L-Shape

Pull-out keyboard shelf

Bottom storage shelf

Made of MDF, steel and PVC
Dimensions
(W x D x H): 50.5 x 27 x 6.5 inches
Weight: 71 Pounds
Regallo Studio Desk Review
The instructions are pretty poor, taking us nearly an hour and a half to assemble the entire thing. If you fancy yourself an expert furniture assembler, you might have better luck than us though.
We couldn't find any specification of how much weight the desk could handle, which was already a bit of a red flag for us. Put it this way, we were not super comfortable about setting up a dual monitor display with 2 x 8″ monitors. The desk starts to flex under the weight, and there was no way in hell that we were going to risk our gear at the expense of a desk review.
That being said, a pair of 6.5″ Yamahas and a single monitor setup seemed to hold up just fine.
It's by no means a high-end desk, but the quality isn't terrible either. Ergonomically speaking, the parts make sense. The height of the top, mid and keyboard tray sections were all at a comfortable level, and the fold out component does a great job at expanding your desk space if you need it.
All-in-all, this desk would suit someone on a tight budget who lives in an apartment and who would benefit from having a desk that can expand its space when needed. The caster wheels could also be useful, depending on your needs.
Pros
Retractable section
Dual-tiered
Keyboard tray
Cons
Restricted by weight
Paint peels easily
If you'd like to see more photos and reviews off the desk before you buy, click here (opens in new tab).
---
If you're looking for more hot tips and guides to build the home recording studio of your dreams, visit our Home Studio Design category.
Last update on 2020-07-09 / Affiliate links / Images from Amazon Product Advertising API