Disclosure: We may receive commissions when you click our links and make purchases. Read our full affiliate disclosure here.
An essential part of your studio set up is going to be a pair of monitors.
But not all monitors are made equal.
We cover 5 of the best budget studio monitors in 2021.

Also check out our guide to the best studio subwoofers.
---

Rounding Up The Best Budget Studio Monitors (Under $300)
In this article, I'll walk you through a selection of the best studio monitors under $300. Bang for buck, maximum punch. Let's go.
1. Yamaha HS5 Review (Our Pick)
Yamaha is certainly a household name when it comes to music gear. Their range extends to speakers, guitars and more from the budget price to the very high end.
The HS5s are considered the benchmark of quality sound for this price range, and are the perfect option for those looking for an accurate pair of studio monitors.
They sound great out of the box but for those working in untreated rooms you have the added option of a trim dial to tweak the low and higher frequency response of the speakers.
The frequency response is fairly flat, some may find it a little lacking in bass but for a small home studio, you'll struggle to find much to complain about with the HS5s.
Pros
✔ Accurate sound, particularly in the midrange
✔ Trim options which are great for untreated rooms 
Cons
✘ May lack a little low end for some, more suited to smaller studios
2. Pioneer Pro DJ Studio Monitor DM40 Review
The DM40s are a good starting point if you are purchasing your first set of monitors and produce more electronic or dance music.
They come with a sleek looking design that is also robust, which is great if you find yourself needing to transport them anywhere.
For the price you pay, you will get a great sound however it is worth bearing in mind that these monitors focus a bit more on the low end, with the top end not being as crisp as other monitors on the market. 
This isn't a bad thing at all if you are predominantly working with electronic-based music however if you are going to be mixing more acoustic or band based music it is probably worth considering a different pair to get more value in the long run.
The monitors themselves are powerful which is great if you are going to be DJ'ing and offer both RCA and 1/8" jack inputs. 
Pros
✔ Affordable, robust and great starting point.
Cons
✘ Exaggerated low-end might not be for everyone
✘ No balanced jack inputs.
3. Mackie CR4BT Review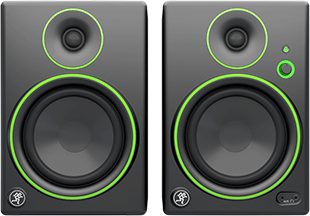 The CR4BT's are another great first monitor purchase, with a simple-but-cool luminous green design around the speaker cones.
These monitors are often referred to as 'multimedia speakers' i.e. not specifically intended for music production, but a rather broad spectrum of video editors, YouTubers, and vloggers, etc. 
Whether or not it is intentional due to this, you will find they lack slightly when it comes to low end, but nonetheless, the CR4BTs are still great value for money and will stand up well against competitors in a similar price range. 
You have the option to hook up either RCA cables, ¼" jack leads and a 1/8" input which is perfect if you want to play music off your phone or laptop.
Pros
✔ Great sound for the price
✔ Has Bluetooth option
✔ Sleek design
Cons
✘ Lacking a touch in the low end.
4. Presonus Eris E4.5 Review
As an entry-level set of monitors, the Presonus Eris E4.5 will do a great job in your home studio. 
The speakers come with an added level of customization to ensure you're getting the best sound out of them you can.
The Low Cutoff feature allows you to roll off some of the lower frequencies, which is useful if you're stuck in a corner (corners create a pronounced bass response). This makes them a great option for a home studio set up where you may not have the luxury of a large room.
You also have the option of adjusting the mid and highs of the monitors themselves which is a good starting point should you be thinking about acoustic treatment and tuning your monitors to your room. The higher frequencies can come across a little harsh so the added option to tweak the high end is really useful.
Pros
✔ Several customizable features, great for home or small studios.
Cons
✘ Higher frequencies can be a little harsh.
✘ Low-end may be inadequate for certain music styles.
OUR PICK
5. Alesis Elevate 5 Review
The Elevate 5s aren't the most powerful of speakers but nonetheless offer a great sound for the price.
They make a good addition to a home studio particularly if monitoring at low to moderate levels (the sound does tend to lose a bit of clarity at higher volumes).
There is a bass boost option which can sound a little unnatural, but this is the only option for tweaking their sound.
The speakers come with ¼'' jack and TRS inputs.
Pros
✔ Great sounding at lower SPL levels so great for home producers.
✔ Value for money.
Cons
✘ Not much option to tweak or calibrate sound.
✘ Bass boost is a little muddy.
6. Fluid Audio F5 Review
Fluid Audio are a relative newcomer, but have most certainly clamored their way into the scene in recent years. Their F5 range, in particular, took many audiophiles by surprise.
While lacking the aesthetic value of some of the other monitors in our list, the F5's certainly performed well when it came to the overall sound. 
The frequency response is noticeably clear and although not as intricate and defined as higher spec models, they compete well and give a great tone for the price you are paying.
The low end will start to sound a bit flabby if you're monitoring at high SPL, although at lower levels they still sound great making them perfect for a home studio setup.
The F5s comes with both RCA and ¼" jack inputs and a single stereo volume control.
Pros
✔ Clear sounding and perform well at low volume (great for home studios or late-night mixing sessions).
Cons
✘ Low-end loses tightness at higher volumes.
7. JBL 305P Review
The 305Ps are a great investment whether you're just starting out or an experienced producer or studio engineer.
For the budget price, you get a clear representation throughout the spectrum, with higher frequency content remaining crisp without being harsh. This no doubt helps combat ear fatigue particularly if you are mixing throughout a long session.
The low end is particularly impressive as well, especially if you are working on bass-heavy tracks. However, the trade-off here is that the frequency response isn't as flat as you would get with other speakers. This isn't a bad thing as there is a certain amount of character added but it is worth considering when purchasing.
Pros
✔ Great for beginners and experienced producers
✔ Rugged build quality
Cons
✘ Frequency response isn't completely flat which may not suit certain producers 
JBL 305P MkII 5
With a 5" low-frequency transducer outputting solid mids and bass, and a 1-inch high-frequency transducer, broadcasting clear highs, you'll benefit from balanced accurate audio for mixing, mastering and production.
Why We Love It:
Beautiful design

Versatile

Incredible stereo imaging
View Price On Guitar Center
View Price On Sweetwater
Studio Monitor FAQ
Why Use Studio Monitors?
Monitors are the speakers you'll use to mix (and master) your music so a good pair is imperative to make sure your work is the best it can be.
Mixing on a quality set of monitors enables you to hear intricacies in your music that enable you to make decisions on how to tackle the mix process.
Studio monitors are generally designed to give you a flat frequency response, meaning that they will give you a true representation of the music you are working on which is essential when it comes to EQ'ing.
The characteristics of each pair of monitors will still differ however, with some reacting better to different frequencies and therefore making them more suitable for certain purposes than others.
Tips For Buying Your First Pair Of Studio Monitors
There are a few points to consider before making your final choice.
Once you have decided on a budget, think about the power of the monitors you are looking at. More power doesn't necessarily constitute extra volume but it will help with dynamic range.
Also, take into account the room you will be using them in. Is it acoustically treated? If not consider a pair of monitors with room adjustment controls which allow you to compensate if your room
exaggerates certain frequencies. This isn't a foolproof fix but it will make a big difference (for more advice on treating your studio you can check out our 4 Tips To Improve Room Acoustics With Zero Budget).
Think about where you will place the speakers — will you have enough room behind them?
Generally, lower frequencies can build up behind your monitors so you may want to invest in stands, or isolation pads for them.
You'll want to be able to angle them level with your ears to get the most accurate sound.
Lastly, always double-check what you are purchasing online. It's not uncommon for retailers to sell single monitors rather than pairs.
Imagine the disappointment of opening a box to discover you've blown your budget on a single speaker!
Last update on 2023-03-21 / Affiliate links / Images from Amazon Product Advertising API