Disclosure: We may receive commissions when you click our links and make purchases. Read our full affiliate disclosure here.
VERDICT
If you play acoustic guitar and like to take your music everywhere, this 30-watt stereo acoustic guitar amp is hard to beat. It is lightweight and very easy to transport and store, with great sound quality and superior features for such a small amp.
PROS
The perfect solution for jamming on the go
Mic input and track playback
5 tone types
Stereo image control
CONS
Strictly for acoustic guitars
Not cheap (but worth every penny)
Yamaha THR30IIA (Verdict)
The Yamaha THR3IIA is a 30-watt stereo amplifier designed for acoustic guitars. It offers great build quality in a compact and convenient form factor. Its rechargeable battery allows you to perform in areas without the need for plugging in this amp. Additionally, it allows you to play along with tracks or just reproduce your favorite music at any time and place.
Build Quality (8/10)
This acoustic guitar amp features a solid build in a very compact form. Its enclosure is not only durable but very stylish with LEDs that glow in the dark and an aluminum handlebar that lets you easily grab this amp and take it anywhere. All the knobs feel sturdy and well built and are the right size even for an amp this small.
The THR30IIA features a built-in wireless receiver that combines with an optional Line 6 Relay G10T transmitter (sold separately) to offer players a completely cable-free performance. This Line 6 transmitter is also well built and feels quite sturdy.
The amp includes a USB port for direct recording and playback, facilitated with the bundled Steinberg software for desktop and mobile recording. The THR30IIA Wireless can also be used with the free Yamaha Rec'n'Share app.
This app is available for iOS and Android and was designed to allow musicians to record audio and video along with songs from their music library, then easily share performances online (more info over at Musician's Friend).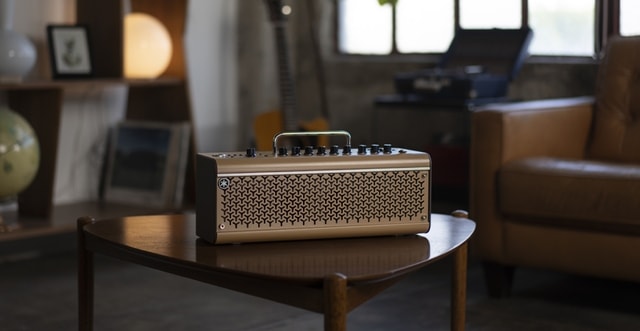 Sound Quality (8/10)
The sound quality of the 30-watt stereo amplifier is clear, pristine, and full-bodied. A little surprising considering how small the unit is. I expected it to be tinnier, given the size.
It features three microphone models, plus a dedicated mode for nylon string guitars that works very well for those into classical playing styles. This mode also sounds really nice on steel-string instruments as well – it just happens to be designed with nylon guitars in mind.
The sound this mode produces is enhanced by the onboard effects very well and I really like how my guitar sounds with a bit of delay and reverb. The THR also features a flat setting that doesn't color the sound – perfect for those who are proud of their guitar's natural sound.
Naturally, the THR is limited by its dimensions and was not made to compete with professional quality acoustic amps or PA systems. But it's hard to imagine how two 3.5″ speakers and the included preamps could possibly sound any better for what they are. The built-in rechargeable battery will provide you with hours of professional-quality wireless playback from Bluetooth audio, as well a good sound for your acoustic guitar and mic thanks to the pre microphone preamp.
Singer-songwriters or musical duos will appreciate the second instrument input, which can be either a mic or a guitar. The included microphone preamp works very nicely for those who want to belt out a tune in a busy public space – saving you the cost of an extra PA speaker.
Don't expect to get mindblowing tones out of an electric guitar, as the amp is designed specifically for acoustic guitars. You're much better off getting the THR30II if you primarily play electric.
Features (8/10)
The Yamaha THR3IIA comes stacked with great features. Yamaha did a great job making such a small and slick 30-watt stereo desktop amplifier with two 3.5″ speakers.
It features 3 mic models: dynamic, tube, and condenser, so you can try out what works best with your guitar. My favorite mic model was the condenser, for both steel and nylon strings. I found this model worked the best with the onboard effects, especially with a touch of delay and reverb.
The THR comes with enough features to let you dial in the sound that you're after. The onboard effects include chorus, chorus/delay, short reverb, long reverb, stereo image, and compressor (available in the editor application).
It includes a professional-quality mic preamp with an XLR input so you can easily plug in a mic. This makes it a viable option for singer-songwriters that want to busk or just play in a corner for fun.
This desktop amp also features Bluetooth support for audio playback with an editor and remote control, so you can play along to tracks or just use it to listen to music and take it on to go. The THR also includes hi-fi audio playback with Extended Stereo Technology for an immersive listening experience you can take with you.
As mentioned, this amp features an internal Line 6 Wireless receiver that works with the optional Line 6 Relay G10T transmitter (sold separately). You can now play wirelessly and on the go!
The Yamaha THR30IIA Wireless features a built-in rechargeable battery that enables you to use it anywhere. You can just charge it and have up to six hours of playback. It also comes with class-compliant USB connectivity for recording and playback.  And speaking of recording, the Yamaha THR30IIA Wireless comes with Cubase AI for your PC or MAC and Cubasis for LE for your iPad.
Portability (10/10)
The convenience of this Yamaha acoustic guitar amp is unrivalled. Whether you are a solo guitarist, singer-songwriter, or duo, this acoustic amp is handy for those situations where you just can't take lug around a weighty PA or amp.
The Yamaha THR30IIA measurements are 16.1″ x 7.6″ x 6.1″. It weighs 9.7 lbs. It can work wonders at a small gathering with friends, the beach, the park, you name it. Just charge it, take it, plug in and play. It's that simple.
Or perhaps you just want to take your phone to listen to some music in high fidelity – no more crappy Bluetooth speakers. The THR30IIA's Bluetooth support enables wireless playback directly from your phone or tablet. It really doesn't get any more convenient than this.
Alternatively, you can also use the THR in your home as a recording interface thanks to the inclusion of Cubase AI for PC/Mac and Cubasis LE for iPad. To top it off, you can use the Yamaha Rec'N'Share app to share your recordings directly to social medial platforms.
Final Thoughts
The Yamaha THR30IIA is the perfect guitar amp for acoustic players and singer-songwriters that want to take their music everywhere. It is well built and loaded with useful features that will keep you inspired, as you can now jam wherever you want. All thanks to its handy size, weight, and battery life (about 6 hours, depending on how you use the THR).
For enhanced portability and protection of the THR30IIA Wireless, Yamaha also offers the THRBG1 gig bag, which is sold separately.
All in all, the new Yamaha THR is an ideal solution for plugging your acoustic guitar anywhere, at any time, in a compact unit with hi-fi sound. It's perhaps a little expensive for some, but worth every penny. I just can't imagine any acoustic guitar player being disappointed with this little gem from Yamaha!
(If you need a new acoustic guitar, why not consider a thin body acoustic? Check out 7 Best Thin Body Acoustic Guitars Money Can Buy next!)