Disclosure: We may receive commissions when you click our links and make purchases, at no extra cost to you.
All The Black Friday Music Deals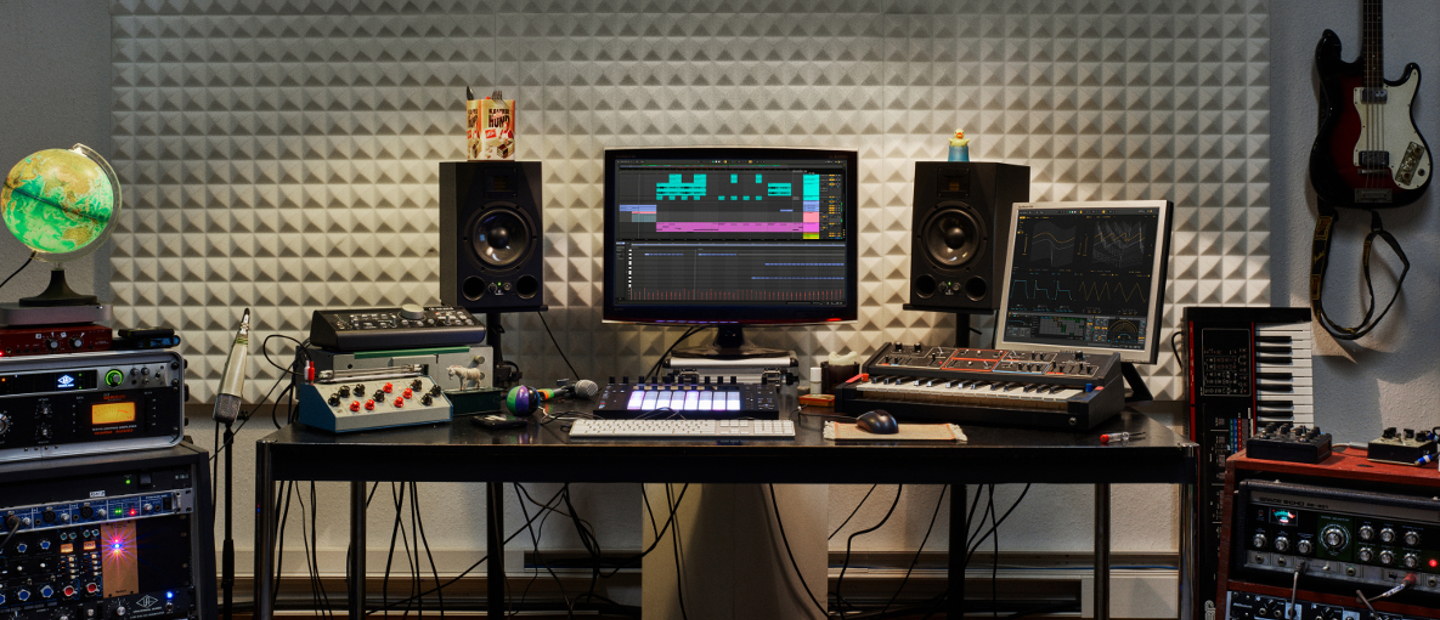 Yes, it's that time of year again where brands of all kinds reduce their prices resulting in utter carnage at shops across the world.
It's kind of like the movie 'The Purge', once a year all common sense goes out the window and it becomes acceptable to fight over a T.V. in a supermarket.
We've searched far and wide for the best deals we could find in the lead up to Black Friday & Cyber Monday. Check back regularly as we'll be adding to the list daily.
Happy shopping and don't forget to enter our giveaway below before you leave!
Our Black Friday Giveaway!
Win A Pair Of DT770 Headphones
Enter Our Black Friday Giveaway
Black Friday Plugins & Software Deals (2020)
Digital Audio Workstations
Black Friday
DAW Deals
SAVE 55%
SAVE 20%
Can't afford a DAW? Check out our list of the best free Garageband alternatives for PC/Windows.
Black Friday Audio Deals (2020)
Synthesizers & MIDI Controllers
Black Friday
Synthesizers & MIDI Controllers Deals
Other MIDI Devices
Black Friday
Other MIDI Device Deals
OUR PICK!
SAVE 25% & FREE SHIPPING
Black Friday Guitar Deals (2020)
Guitars
Black Friday
Guitar Deals
Guitar Pedals
Black Friday
Guitar Pedal Deals
Guitar Amps
Black Friday
Guitar Amp Deals
Strings, Cables & More
Black Friday
Accessories Deals
SAMPLE PACKS
Loopmasters are having their biggest Black Friday Sale to date.
Loopcloud shaves their prices down to just £3/$3 per month.
Unison Audio annihilates their prices by 85%, saving you loads on chord and melody packs and more.
DRUM LIBRARY/ROMPLER DEALS
VOCAL/PITCH CORRECTION PLUGIN DEALS
GUITAR MODELERS & AMP SIMULATOR DEALS
MUSIC PRODUCTION COURSE DEALS
ROOM TREATMENT/CORRECTION SOFTWARE
NATIVE INSTRUMENTS BLACK FRIDAY DEALS
Mastering Plugin Deals
[OUR PICK] 🔥Up to 77% on iZotope Ozone 9 & Ozone 9 Elements
48% off Sonnox Mastering Collection
55% off ML4000 Mastering Limiter Native
52% off Modern Mastering Bundle (iZotope Ozone 9 Standard, Meterplugs, Mastering The Mix)
Sound Design Plugin Deals
[OUR PICK]🔥Save up to 37% off Output's range of instruments and effects.
Black Friday 2019 Deals (Archived)
View 2019 Black Friday Deals
Black Friday/Cyber Monday 2019 (Archive)
| | | |
| --- | --- | --- |
| Plugin Name | Save Up To | Link |
| Accusonus | 73% Off | Link |
| AIR Music Boom | 95% Off | Link |
| Air Music Hybrid 3 | 88% Off | Link |
| AIR Music Loom | 84% Off | Link |
| AIR Music The Riser | 87% Off | Link |
| AIR Music Vacuum | 91% Off | Link |
| AIR Music Xpand!2 | 95% Off | Link |
| Arturia V Collection 7 | 40% Off | Link |
| AudioThing Frostbite 2 | 40% Off | Link |
| Butch Vig Vocals | 80% Off | Link |
| CLA-3A Comp/Limiter | 88% Off | Link |
| Eventide Anthology XI | 72% Off | Link |
| Eventide Elevate | 50% Off | Link |
| Heavyocity | 75% Off | Link |
| Izotope Dialogue Match | 25% Off | Link |
| Izotope RX | 37% Off | Link |
| Izotope Surround Reverb | 33% Off | Link |
| Krotos | 50% Off | Link |
| KV331 Audio Synthmaster | 69% Off | Link |
| Lexicon Plugins | 50% Off | Link |
| Loopmasters Bass | 50% Off | Link |
| Loopmasters Bassmaster | 60% Off | Link |
| Loopmasters Khords | 50% Off | Link |
| Mastering The Mix ANIMATE | 50% Off | Link |
| McDSP | 76% Off | Link |
| Mozaic Beats AutoTheory 5 | 33% Off | Link |
| Output | 25% Off | Link |
| Photosounder | 62% Off | Link |
| PluginBoutique Scaler | 37% Off | Link |
| PSP Audioware | 87% Off | Link |
| Rennaisance Bass | 62% Off | Link |
| SONiVOX Film Score | 87% Off | Link |
| SoniVOX Premiere | 85% Off | Link |
| Sonnox Plugins | 50% Off | Link |
| Soundspot Union | 95% Off | Link |
| Voxengo Plugins | 30% Off | Link |
| W.A Production Babylon | 81% Off | Link |
| W.A. Absolute Vocal | 92% Off | Link |
| Waves Abbey Road Plate Reverbs | 72% Off | Link |
| Waves Abbey Road TG Mastering | 85% Off | Link |
| Waves Aphex Vintage Aural Exciter | 77% Off | Link |
| Waves API 2500 | 90% Off | Link |
| Waves API 550 | 72% Off | Link |
| Waves CLA Classic Compressors | 78% Off | Link |
| Waves CLA Signature Series | 85% Off | Link |
| Waves dbx® 160 Comp/Limiter | 66% Off | Link |
| Waves F6 Floating Band Dynamic EQ | 70% Off | Link |
| Waves Factory Cassette | 50% Off | Link |
| Waves Gold Bundle | 63% Off | Link |
| Waves H-Delay Hybrid Delay | 72% Off | Link |
| Waves J37 Tape | 83% Off | Link |
| Waves Platinum Bundle | 80% Off | Link |
| Waves REDD Console | 88% Off | Link |
| Waves Reel ADT | 72% Off | Link |
| Waves Scheps 73 | 65% Off | Link |
| Waves Scheps Omni Channel | 33% Off | Link |
| Waves SSL 4000 Collection | 60% Off | Link |
| Waves SSL E-Channel | 60% Off | Link |
| Waves SSL G-Master Buss | 60% Off | Link |
| Waves Vitamin Sonic Enhancer | 80% Off | Link |
| Waves Vocal Bundle | 82% Off | Link |
| Waves Vocal Rider | 64% Off | Link |
| WavesKramer HLS | 88% Off | Link |
| WavesPuigtech EQs | 90% Off | Link |
---
Subscription-Based Plugin Deals
PluginAlliance are giving away 6 M/S mastering tools and audio plugins just by signing up.
Drum Library Deals
GetGoodDrums are running a sale up to 50% on their drum libraries and grooves.
Vocal/Pitch Correction Plugin Deals
Melodyne 4 is having a 50% off sale on PluginBoutique.
Antares is offering 50% off their Autotune plugins.
Guitar Modelers & Amp Simulator Deals
Positive Grid are running a sale up to 50% for BIAS FX and more.
IK Multimedia are running a sale up to 30% for Amplitube 4.
Native Instruments are running a sale for 50% off Guitar Rig 5 Pro.
Neural DSP are running bulk discounts up to 50% off, including Fortin & Archetype.
Native Instruments Black Friday Deals
Save up to 50% on Massive X, Kontakt 6, Traktor Pro 3, Reaktor 6 and so much more.
Soundtoys Black Friday Deals
Soundtoys are running up to 80% off all their plugins.
Mastering Plugin Black Friday Deals
[EDITOR'S PICK]Save $778USD on Izotope's FX Bundle. Includes:
RX Elements ($129 value)
Nectar Elements ($129 value)
Neutron 3 Elements ($129 value)
Ozone 9 Elements ($129 value)
Trash 2 Expanded ($99 value)
DDLY ($49 value)
Mobius Filter ($49 value)
Sound Design Tools Black Friday Deals
Digital Audio Workstation (DAW) Black Friday Deals
---
Black Friday Sample Pack Deals
The following companies are holding massive sales on their range of sample packs.
Producer Hive X MGF Audio MS-20 Sample Pack (FREE DOWNLOAD)
Producer Hive teams up with MGF Audio for this FREE sample pack of MS-20 Mini sounds!
With over 230 high-quality WAV files, you'll find plenty of analogue screeches, squelches and the rawest analogue bass sounds only the MS-20 is capable of.
This two-oscillator semi-modular beast is particularly infamous for its filters, which absolutely scream when the resonance is pushed. This gives it an aggressive, raw and downright dirty flavour that few other synths can match!
This exclusive FREE sample pack features:
28 bass one-shots and 5 multisample patches
25 leads and tones
40 'blips' and mini-arps
78 SFX, percs and misc hits
Root notes in the file names where applicable
Free Download By Clicking The Button Below
Head to MGFAudio and save

90% off

sitewide with code

HIVEVIBEZ
---
Sononym | Machine Learning Sample Browser
Sononym is a sample browser that organizes your sounds using machine learning, and allows you to explore how these sounds are related to one another.
Licenses purchased between Friday the 29th of November and Tuesday the 3rd of December will be discounted by 50% when you enter a special coupon code. Click here to redeem.
Music Production Hardware Black Friday Deals
Beyerdynamic
Beyerdynamic is having a sale up to 60% off their range of products.
Noise Engineering
Noise Engineering is doing 15% off all modules with the code BLACKFRIDAY15
Other Stores
---
Laptop Black Friday Deals
Laptops On Amazon
Asus ROG Strix Scar II Gaming Laptop (Save Up To 30%)
Apple Macbooks
Apple's new-gen Macbook sales have landed a couple weeks before Black Friday, in an attempt to beat the rush.
Also, check out our guide on 2020's best high performance laptops for music production.
---
Music Production Hardware & Gadget Deals
Amazon Audio Deals
Focusrite
Shure
No products found.
Behringer
Audio Technica
Akai
AKG
RØDE
Novation
ROLI
Arturia
Sennheiser
Alesis
KORG
Marshall
Guitar Amps
Arturia
Arturia are running a sale of up to 50% off across their range of synthesizers, including the infamous MiniBrute 2, 2S, and DrumBrute.
JZ Microphones
SubPac
The good people at Subpac just dropped the news on us that they'll be offering everyone $75 off the upgraded 2019 Edition of SUBPAC S2 (the ultimate tool for monitoring bass).
Additionally, the first 100 customers will get a free BackPac!
The BackPac turns your S2 into a portable, wearable tactile bass system while giving you ample carrying capacity for your other gear.
Find out more here.
AIAIAI
AIAIAI are running 30% discounts across their range of quality DJ and studio headphones.
Jammy: Portable MIDI Guitar
Jammy was created for hobby guitarists and music producers as a compact and lightweight second guitar that can be taken everywhere to practice or create music on the go.
The main wow-feature is that Jammy is a MIDI controller, so using just the guitar you can play any instrument you want.
It's a stringed MIDI controller compatible with all major DAWs: you can send MIDI from Jammy to your phone or computer via Bluetooth.
Jammy also has onboard electric/acoustic guitar sound: so you can plug it directly into an amp or stick earbuds in and play
"For Black Friday we have a special offer: starting from November 28th Jammy will cost $399 ($100 off) + string set as a gift. The deal will be active till December 4th on official website."
Guitar Pedals
EarthQuaker Devices
HeadRush
Caline USA
Black Friday/Cyber Monday Music Production Course Deals 2019
[EDITOR'S PICK]Education & Bass | Bass Music Focused Courses
Use the code EBBF50 for 50% off a range of their world-class bass music production courses, including:
*Monthly discounted price lasts for a year before rolling over to regular price.
Promotion runs up until the middle of next week.
Editor's Note:
"Spending only just a week digesting the content of the course, I uncovered little nuggets of wisdom that made me go from "how did I never discover that feature before?" to "I have to try this right now". I often found myself pausing the videos just to open up Ableton and try out the techniques myself."
Highlights of the course content for me included:
Learning how Leon Switch creates beautifully textured synth-leads in Ableton's Analog
Learning how to program Nurve's signature mid-bass growls in Serum
Being blown away by Cocktail Party Effect's 'no-input mixer hardware technique'
The lecturers are also delivered by some of the most prominent figures in the scene, such as Nomine/Outrage, Leon Switch, Nurve (Macabre Unit), Occult, LSN and DubApe to name a few.
Save 20% Off Your Noiselab Membership
Noiselab remains as our highest rated music production course online. If you're looking to become proficient at Ableton specifically, this is likely the only course you'll ever need.
Ableton Certified Trainers
All instructors are either Ableton Certified Trainers or successful producers with impressive industry credentials. We believe in learning from the best, so that's all we offer
Producertech (Up to 60% Off All Courses)

Producertech offers award-winning tutorials on music production from a multitude of certified trainers and professional artists. In addition to the streamed tutorials, all courses come with downloadable materials, including DAW projects, instrument presets, bonus samples and written notes.
Examples include:
Click here to browse all courses.
DJ Courses Online (Save 50% Off Your Membership)
The leading online school for DJs and electronic musicians are running a Black Friday deal comprising of a fat 50% off all new memberships.
Offer expires Tuesday, December 3rd at 11:59pm PT.
Claim your discount here.
Get 2 Months Of Skillshare Premium Free
Skillshare's courses are interactive, have homework and assignments, and a great support network in the ways of class participation in public channels, with full guidance from the teachers.
It's usually $10 a month, but because you're a Producer Hive reader, you can get two months free, completely on us!
At the time of writing, there are over 2,200+ music-related classes you can gain access to for free, including:
Music production & theory
Mixing & mastering
Music marketing & song licensing
Film scoring
If you don't end up liking it — you can simply cancel the membership before your free trial runs out.
If you're overwhelmed by the number of music production courses on Skillshare, here are our top 3 picks.
Magazines & More
MusicTech are running a sale up to 61% off on yearly magazine subscriptions.
Black Friday/Cyber Monday FAQ
What Can You Get In The Black Friday/Cyber Monday Deals?
What Can You Get In The Black Friday/Cyber Monday Sale?
The great thing about the sale is that it isn't restricted to one type of item. We'd be here until the next Black Friday/Cyber Monday sale if we were to list everything. 
Probably the most wallet-emptying items in the Black Friday/Cyber Monday sales tend to be plug-ins.
Of course, it's not uncommon to find deals on plug-ins year-round but during Black Friday you'll be able to find rock bottom prices on EQ's, compressors, modulations and loads of hardware/software.
If there's anything you've had your eye on, keep on the lookout as chances are you'll find it cheaper during Black Friday than the rest of the year (and you won't even need to leave the comfort of your home or studio to get it!).
Expect to find deals on:
Audio Plugins
Rack gear
Mastering gear
Prepare thy wallet…
Tips For Nabbing Black Friday Deals?
Tips For Nabbing Black Friday/Cyber Monday Music Production Deals
We'd suggest keeping tabs on Waves (undoubtedly the kings & queens of plug-in sales!), iZotope and Plugin Boutique for some great savings this year.
For those of us wanting to get our hands on something physical, most music instrument and equipment retailers will reduce their rates for Black Friday too.
We've seen some crazy savings from Amazon in previous years so if you're a guitarist or bassist in need of a new axe, effects pedal or anything else then we'd suggest keeping your eyes peeled there.
It's worth bookmarking the 'Top Deals In Musical Instruments' page on Amazon so you can stay on top of what's going on sale.
Amazon's also a good one to scout because of their ridiculous variety and free (Prime) shipping.
Amazon had a great Black Friday in 2019 with their discounts ranging from music tech to Amazon Echos.
There are usually great offers to be found with manufacturers selling bundles for Black Friday as well, where rather than discounting an item they will throw in a selection of extras with any purchase instead.
When Do The Deals Start?
When Do The Black Friday/Cyber Monday Music Sales Start?
The Black Friday music production sales fall on the Friday after Thanksgiving, which will be the November 27th this year. Cyber Monday will fall on November 30th 2020.
It's not uncommon for retailers to get a little over-excited about the sales, however, so expect to see some discounts applied before these dates (in the past these have even begun in October).
Looking to get into music production but don't know where to begin? Start with these 5 Free DAWS.
Last update on 2021-04-21 / Affiliate links / Images from Amazon Product Advertising API